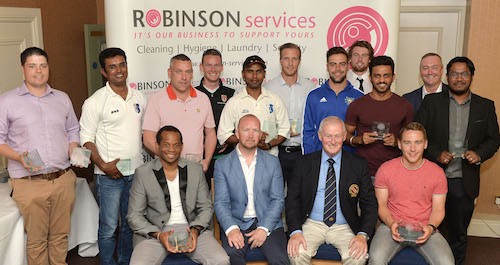 It was fitting that Clarence Hiles helped preside over the 25th anniversary of the Northern Cricket Union's prestigious league awards on Monday night.
Hiles is now the Union's president but back in 1993 he pioneered the awards as boss of the Britannia Building Society in Belfast. Since then there have been three other sponsors as over 1,000 trophies have been presented to players who score a century, take at least six wickets or perform a hat trick in any of the NCU's senior leagues

Hiles presented the first of this season's awards with David Robinson, managing director of the leagues' and awards' new sponsor, Robinson
Services.

He said: "I'm obviously delighted the awards have endured so long - a real indication of how the players value them."

David Robinson said his company was proud to carry on "such a very
fine tradition." And to prove it, for the first time each trophy is being inscribed with the player's name, his club and details of his performance.

The season's first presentations saw 18 players win awards in the first seven weeks and were evenly split between batsmen and bowlers. There were two winners in the Premiership, and eight each in Sections 1 and 2. The highest score was 125 not out by Lisburn's Adam Berry, John Busby returned the best bowling figures of 6 for 11 and there were hat tricks by JJ Strydom of Woodvale. and Phil Kernaghan of Templepatrick.

Down the years highlights included -

- Niranjan Godbole whose 24 awards in 12 years with Lurgan top the table. Apart from a hat trick all were for centuries.

- Billy "Bumper" Dale whose 7 for 14 for Cooke Collegians in 2014 made him the oldest award winner at the age of 66.

- Neil Gelston of Drumaness bagged three awards in as many weeks in 2015: first he scored 132 out of his side's total of 179 and in the same month took 7 for 6 including a hat trick.

There have been a number of special awards that included
- Seventeen year old Taz Kwela whose remarkable figures of five wickets for no runs for Bangor in 2014 saw the NCU relax the threshold of six wickets. As a schoolboy he was allowed to bowl only seven overs which he did successively.
- Brian Millar and Bertie Stiles each received awards as wicket keepers. Millar claimed four victims in a row for Bangor while Stiles took a total of seven in an innings for Queen's University.
Picture Caption: The latest group of Northern Cricket Union league awards' winners as the tradition celebrates its 25th anniversary. They are for players who score a century, take at least six wickets or perform a
hat-trick in the premier and senior leagues and were presented by
David Robinson, managing director of sponsors Robinson Services, and
Clarence Hiles, president of the NCU.