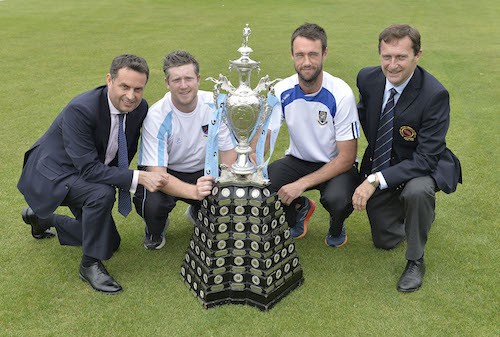 The 2016 NCU Challenge Cup Final has a strange look with contenders CIYMS at the basement and Civil Service North barely one victory better off. However, the situation will significantly change with both teams likely to be in a prominent place by the end of season.
We should certainly not be disappointed with the contenders.
Both teams have a star-studded array of professionals, and spectators should be guaranteed with a high-scoring close encounter. Despite the inclement weather preceding the previous rounds, The Green at Comber will be resplendent with excellent drainage, and a good pitch from big Ray Moreland and Paul Revill.
Both CIYMS and Civil Service North were barely tested before the semi-finals. Then Duckworth Lewis produced its annual lottery. Although some people might feel it is still fair a contest Waringstown might think otherwise. Also, CIYMS should be grateful for a flurry from Johnny Thompson to win the line.
At the end of the day the cup produces results and we sincerely hope another DL ruling doesn't produce another farcical situation.
Skippers Andrew Cowden and Nigel Jones face each other when formerly they were teammates at Stormont. CIYMS have finally ended their 'monkey' against Instonians in 2015, and Civil Service North might claim many trophies of yesteryear in the great years. They won in 2014, although we live in the present, and virtually each player will have a viable claim to make a stake for victory.
The NCU Challenge Cup dates in 1887 and despite a plethora of other trophies in Ireland, every NCU players to aspires to winning this coveted medal. It is also a towering impressive cup and we are delighted that Arthur J Gallagher will be presenting the trophy and their continuing sponsorship.
Finally, we need spectators to attend. The cost is a nominal fiver and a couple of quid for schoolboys. You should honour the finalists and enhance this great occasion.
Let's hope the weather is kind and the best teams win.
Photo:
CSNI captain Andrew Cowden (second left) and his
CIYMS counterpart, Nigel Jones, with the Managing Director of AJG,
Shane Matthews, and the President of the Northern Cricket Union, Peter
McMorran.