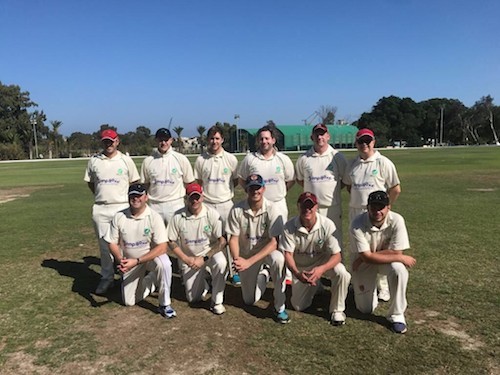 The Ulster Grasshoppers CC embarked on a short but memorable trip to the beautiful island of Malta playing two fixtures, recording two comfortable victories. The trip was organised by yours truly and Andy Beattie of Waringstown CC, a first time tourist to whom I am endebted for his assistance from start to finish.
The tour party totalling 17, was a nice blend of experience and youth with a few non players and to keep everyone in line, Dawn Callendar. Dawn has toured with the Grasshoppers before and was great company even though she heard some serious drivel from some of the tourists. She took it all in her stride and I hope her and her husband Ian (our umpire for both games) tour again with us.
This tour party only had five previous Grasshoppers, Ian and Dawn Callender, Peter Bates of Muckamore CC and Ricky Finlay and Michael Turkington of Lisburn CC. The remaining party consisted of Les Irwin and Colin Storey from Woodvale CC, Matty McCord and Brian Anderson from Cliftonville CC, Andy Beattie, Alan Harrison and Rab McClimond from Waringstown CC, Stevie Colgan of Ballymena CC, Glenn Halliday and Calum Atkinson of Lisburn CC, Corin Goodall of CSNI and Blair Stewart our chief supporter. The party blended well and while many of the young guys didn't know the older ones, it certainly wasn't the case after the weekend and lasting friendships were formed.

The opposition on Friday were the Wales national Over 55s side. Ulster Grasshoppers openers veteran Michel Turkington and Glenn Halliday set the tone in their opening tour match in Malta with a 76 run stand. Halliday went on to top score with 75 (6x4, 1x6) and Stephen Colgan added a quick unbeaten 55. Andrew Beattie, Corin Goodall and Matthew McCord all achieved double figures before the innings closed on 283 for 4.Alan Harrison and Rab McClimond both took 2 wickets as Wales Seniors were quickly reduced to 35 for 6 but despite Grasshoppers using 10 bowlers Wales Seniors finished on 89 for 9 in their 40 overs. Ulster Grasshoppers won by 194 runs
The second fixture was on Sunday v our hosts, Marsa. Marsa opener Nowell starred for the home side with 91 including 7 fours and 4 sixes, but had little support chasing Grasshoppers 213 for 4 in the 30 over match. Calum Atkinson and Andrew Beattie both picked up 2 wickets for the Grasshoppers as Marsa finished on 173 for 8. Colin Storey was thrown the ball mid innings and 'Big Sto' showed the younger lads that the adage 'bowl straight' still rings true, by clean bowling the opposition number 4 first ball of his Grasshoppers career. Experience etc etc. Earlier the Grasshoppers batsman all achieved double figures with no less than three retiring early to protect their averages. NCU Cricket Development Officer Calum Atkinson top scored with 54 not out whilst fellow opener Michael Turkington fell 5 short of a deserved half century and Andy Beattie's 29 was scored in only 19 balls. So, the Grasshoppers finished their Malta tour unbeaten.
The awards night the final evening was, in true Grasshopper style, good fun and with the 'warm beer loosening tongues', gentle cover drives had in fact scorched to the boundary, simple catches were one handed stunners, and Batesy's wicket keeping was in fact, on a par with former Grasshopper / Ireland skipper, Paul Jackson in his pomp.
The Chairman had purchased a few trophies to remind the party of the tour and the winners were:
MOM vs Wales Over 55 CC: Stevie Colgan Ballymena CC
MOM vs Marsa CC: Calum Atkinson Lisburn CC
Batsman of the Tour: Glenn Halliday Lisburn CC
Bowler of the Tour: Alan 'Butch' Harrison Waringstown CC
Tourist of the Tour: Blair Stewart
Roll on the next tour!
Ricky Finlay
Chairman
Ulster Grasshoppers CC