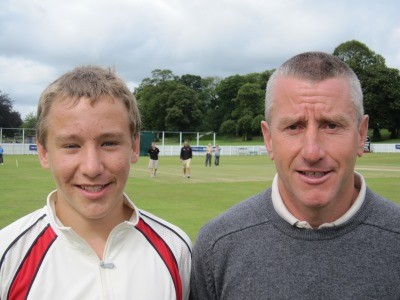 The are no North-West representatives and the remaining two 'outsiders' from the NCU face tough matches in Dublin. And their challenge has been magnified by the disappointment of both teams losing their NCU semi-final matches yesterday. That's the bad news, but the good news is that both Waringstown and Civil Service North are good teams and if they are up for the task then there's no reason why they can't go to Dublin and win. It won't be easy, but when you reach the last eight in the All-Ireland you don't expect easy wins.
Waringstown travel to Clontarf after losing to CI off the last ball and they will do well to bounce back within 24 hours. But if you are going to win big cup matches then you have to show the character to bounce back from adversity and if any club has character it is Waringstown. Clontarf will have an edge with home advantage, but it is doubtful they will be seen as favourites as the Villagers have a strong team and can beat any club on their day. The Dubliners lost to the Hills in last year's final after beating Merrion in the 2013 final, but Waringstown won in 2011 so there's plenty of pedigree in both camps.
Civil Service North lost a big run chase against Instonians yesterday, but they came within 24 of winning and that should be enough to give them confidence going to Rathmines. Leinster were very fortunate to squeeze past Muckamore in the last round so there's plenty of good reasons why Andy Cowden's men can win on the road. Leinster will be seen as favourites, but a strong performance from the Stormont men can upset the odds.
In the other two matches Malahide host Pembroke and North County host Merrion. Malahide should win at home and so should North County, although this match might be closer. Eddie Richardson was in prolific form for North County in the last round with six wickets and a century, but Merrion have the emerging Tyrone Kane in their ranks so this game is evenly poised. Home advantage might tip the balance, but if Eddie repeats his heroics of the last round it won't matter where the match is played.
Despite our poor record in the Irish Senior Cup in recent times we still have two good teams in the frame and if they carry their A game to Dublin then we could well have two NCU teams in the semi-finals and parity with our Leinster rivals.
Let's just do it!
Clarence Hiles
Editor