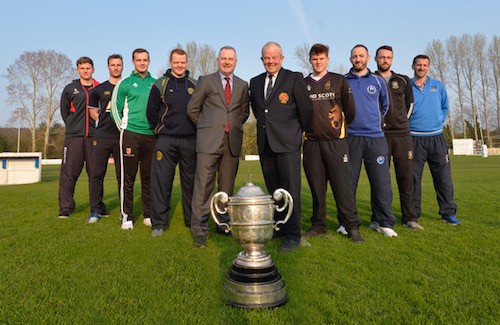 With everyone eagerly looking forward to the new season I caught up with James Kennedy and asked him about his views on the season ahead and his ambitions for his own Club.
I began by asking him, who he saw as favourites for the league. He said that every team has strengthened well this winter, and he sees the league as being very competitive, but when it comes to that consistency, it's going to be very difficult to look beyond CIYMS and Waringstown. They are the undoubted favourites, and have been there year on year in the last few seasons. James feels that CIYMS are very strong every which way you look – seam or spin bowling, and the batting line up is very strong. Every change of bowling will present a new challenge to the batsman!
I asked James what he knew of Waringstown's new professional. He admitted that he was somewhat of an unknown quantity, but James said if he's at Waringstown, who have had a very good track record of Pro's in recent years, then I'm sure he will cause most people a problem and do a good job for the Club. James also felt that besides the Pro, Waringstown are still a fantastic side with strength in depth. He recalled last year's NCU Senior Cup Final when his side saw how good Waringstown were up close and personal as the Villagers, under pressure, chased down their target of 285.
Turning to the newly promoted Lisburn, James said that their Pro had a reputation of being a quality performer and he knew what their other signing, Reinhardt Strydom, would bring to the game. He felt he was a very dangerous cricketer. Overall with these two quality additions, James feels that Lisburn will make their presence felt.
Another new signing James feels is an extremely strong addition is Murray Cummins at Instonians and he reckons he will be a force to be reckoned with.
I continued by asking James what his views were on Muckamore's signing of Bobby Rao as Head Coach. He felt this was a brilliant signing, perhaps arguably a better signing than any player they could have signed. His track record, James said, as a Coach has been superb and his enthusiasm for the game has rubbed off on most people he has worked with – a fantastic addition for the Muckamore Club.
Finally, we spoke about his own Club CSNI who have made just one signing, but a very good one in Gary Wilson joining from County cricket where he has played for the past number of years. James felt it was great having Gary in the ranks and available week in week out, but it was not just about bringing players in. He said it was also about the type of team you can put out. He feels that his squad can be very competitive and more importantly are a great bunch of lads, who will work hard for each other creating a fantastic team spirit. James is hoping that their recent good track record in white ball cricket can stand them in good stead in the cup competitions this season, and also lead to more consistency in the league with the aim to get as high up the table as possible.
James finished by saying that if any team finishes above both CIYMS and Waringstown, then they will have had a superb season.
Something I tend to agree with.