...seem to have acquired new support from many Jamaicans after the thrilling finish to yesterday's game against Zimbabwe put the spotlight on the squad whose determination earned them a dramatic tie.
The team is being 'adopted' by many Jamaicans, keen to see the side get lucky on what is known to be a very special date for the Irish. There are plans afoot to celebrate St. Patrick's Day in style with the players at Sabina Park. More than 7,200 tickets have already been sold for this match.
Ireland is the only team to support on St Patrick's Day, declared Alaistair MacBeath, who is usually a die-hard West Indies supporter.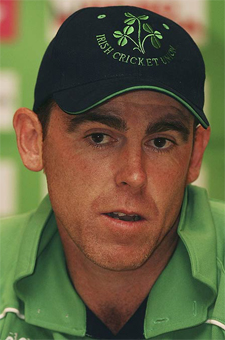 Trent Johnston, Ireland captain, has already acknowledged the impact which fans had on yesterday's game, saying: "It was just fantastic, I can't praise them enough.
Tomorrow's game, for which tickets are still available, will have a party atmosphere as members of the Blarney Army return to cheer on their side. The Party Stand is expected to be a sea of green as the patriotic Irish turn out in vast numbers.
MacBeath, who is in fact of Scottish descent, plans to join in the festivities and he will be dressed up for the occasion.
I will be decked out in a green hat, looking like a leprechaun, he joked.
Many Brits, living in Jamaica, have also decided to give their support to the team closest to their homeland and which features players from both Ireland and Northern Ireland which is a part of the United Kingdom.