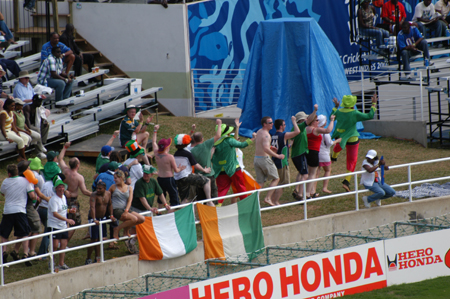 Both the cricket squad and fans – the Blarney Army – are revelling in the unexpected experience of being among the Super 8 teams who advanced from the Group Stage to contend for Semi-Final places in the tournament.
Having put in two creditable performances in losing causes against England last Friday and South Africa today at Guyana National Stadium, Trent Johnston and company are fast becoming sentimental favourites and winning the hearts of regional fans who cheer them on in every match.
"We are living a dream. It's fantastic. There are 12 amateur cricketers in our team – who could ever have imagined this? All I can ask is that we enjoy ourselves and give our best every time we go out there. We can't put too much pressure on ourselves.
"We're going to try and control the things that we can control and not worry about the things that we can't control. We are playing the best cricketers in the world and we're learning all the time," said Johnston, who smashed a memorable six to seal an historic upset victory overPakistanin the Group Stage.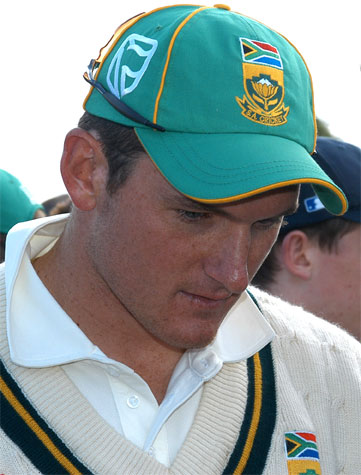 Yesterday's rain-affected effort earned compliments from South Africa's skipper, Graeme Smith, in post-match remarks.
"Irelandhave done themselves proud. They might not be winning these games, but they're showing great energy and commitment…they have a lot of talent," noted the Proteas captain.
Most of Ireland's cricketers were expected to be back at work by now, watching the Cricket World Cup on television but, as fate would have it, they have had to get an extra four weeks off – which their respective bosses have gladly given.
"It's amazing the stories we're hearing from back home; about kids playing cricket in the streets and lots of celebration," said vice-captain, Kyle McCallan at a recent Press conference.
The Irish luck has also had supporters scrambling to get to Super 8 matches. Angus Hancock and his friends had planned to head back to Dublinfollowing the Group Stage in Jamaica. However, they are now leaving fromGuyanatomorrow with more memories than they counted on.
"We've had a great time down here in the Caribbean. We were only going to Jamaicabut after the boys qualified, we had to stick with them. What they've achieved is brilliant. They've changed the face of cricket in Irelandforever," he declared, exiting the stadium at Providencethis evening.
"A lot of people will be going over to Barbados. More wanted to come to Guyanabut they couldn't get flights at such a late stage. I'm so glad we got here. I never intended to come to Guyana or South America but it's been beautiful."
The 40-year-old globe-trotter hailed Guyana's majestic Kaieteur Fallsas "a well kept secret", stating "I've been all over the world and I thought I knew everything but I'd never heard of it until now".
"It's a beautiful country – natural and unspoilt and I hope it stays that way," he added.
Shaun McGrath, who has been a unique sight running up and down Guyana National Stadium waving the Irish flag vigorously, has also thoroughly enjoyed CWC 2007 – the party atmosphere at cricket, the camaraderie and the tropical environs.
"People have really taken to us and we've had an incredible experience. It can't be forgotten," he shouted above the sound system blasting music across the venue.
And likewise, he won't be forgotten – running from one end of the stand to the other, shouting "Ireland forever, Ireland forever."