William Porterfield won the toss and elected to bat, but the skipper and his opening partner Paul Stirling were out of touch in this encounter and Ireland had Niall O'Brien (44) to thank for holding the innings together. Wilson, Poynter, Sorensen and Kevin O'Brien all got started but failed to build an innings and it was left to Stuart Thompson (32) to provide the impetus to reach 179. It never looked enough, but never say never with this young team and once again they defied the odds.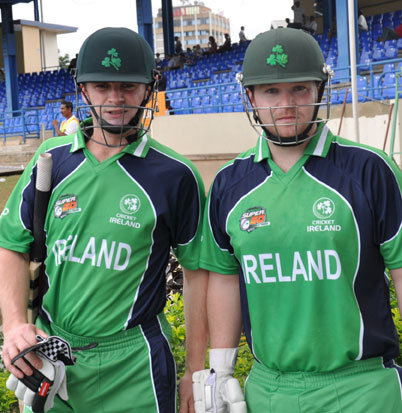 The defending champions lost an early wicket, but it was only when Porterfield introduced his spin bowlers that the match took a serious turn in Ireland's direction. Dockrell was back to his brilliant best ably assisted by McBrine, Stirling and Poynter, as the slow bowlers tore through the Windwards' middle order and from 84-4 they succumbed to 101-9 and eventually were bowled out for 115. In stark contrast to their fielding against Jamaica, Ireland were superb in the field and the team fully deserved their win, albeit unlikely after another inconsistent batting performance.
George Dockrell was Man-of-the-Match with his 3-14, but it was a fine all round performance in the field from everyone that won the day for Ireland on this occasion.
The win won't make Ireland favourites to beat the West Indies in Jamaica in two weeks time, but it will raise a few eyebrows and ensure the visitors are not taken for granted. Veteran West Indian batsman Shivnarine Chanderpaul was in the nets at the Queen's Park Oval with the Guyanese players, but he made several visits over the main ground to watch the game in progress and was clearly impressed by the fighting spirit of the Ireland team. He was not alone.
The squad head for Tobago on Saturday for a day off and then it's back to training next week followed by two practice games before heading to Jamaica. Ed Joyce will join the players for this part of the trip.
These are exciting times for the squad and their many followers home and abroad.
Clarence Hiles
Editor