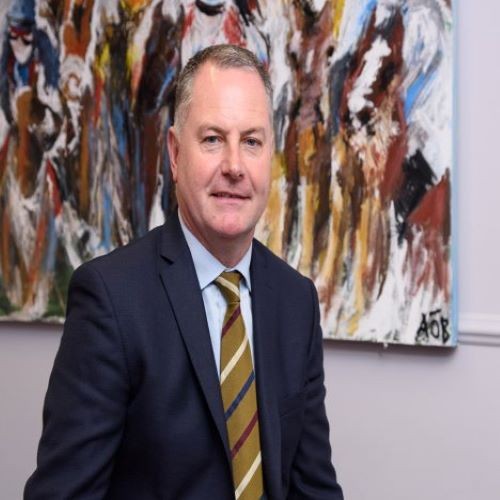 I caught up with the Ulster Cricketer's latest advertiser, Robinson Services Managing Director David Robinson. I began by asking him about his playing career.
How did you get started, did you play cricket at School?
I began playing cricket at a very early age, I vividly remember walking from our family home in Ballycraigy in Antrim to Muckamore Cricket Club with my Primary School friends to play cricket. I played junior cricket at Muckamore under the stewardship of Andy Gleghorne and the pinnacle was winning the Graham Cup in 1985.
What successes did you have during your playing career?
I won a couple of league campaigns with the 2nd XI, led by John McCormick who was a great captain. I also captained the 3rd XI for a couple of seasons but eventually stopped playing due to work and family commitments.
Did you play a part behind the scene at Moylena?
Muckamore is a very family orientated club and I had various roles serving on the general committee and was chairman for 4 years. Although I no longer hold any offices within the club, I'm still a trustee and support Muckamore when I can.
How did Robinson Services get involved with the NCU?
I got approached by the NCU after the Ulster Bank withdrew their support for the leagues. The NCU came up with a great sponsorship package and we are proud to have agreed a 3-year deal.
We were also delighted to support Brigade last season and will continue to support local cricket where we can.
What about Robinson Services, how did it all begin?
My dad started the business in 1968 as a window cleaning business, he was the only employee, but that soon changed. Today our client base exceeds 1,000 and our employees exceed 1,500. Robinson Services is one of the Belfast Telegraph's Top 100 Companies in Northern Ireland. We have recently opened our second office in Northern Ireland, and our first in Dublin. The business is expanding and we believe that this is because we form valuable partnerships with our clients and employees while providing competitive pricing and a quality service.
Our head office is based in Sarah Jane Robinson House in Antrim, where our Finance, HR, Operations, Training and Sales teams are mainly based, as well as our Help Desk.
When and how did you become involved with the business?
I got involved when I was about 12 years old. I worked in the business during the school holidays, Christmas and Easter etc. doing various jobs. Then when I turned 16, I left school and went into the business full time and worked my way up to where I am today
You say the business has expanded, what services do you now offer customers?
We offer a number of services including
Contract Cleaning which is our core business;
Hygiene;
Laundry; &
Security
Tell us a bit more about the services.
We provide contract cleaning for many businesses, from the very small to the very large.
We offer a complete service carried out by a professional and skilled team armed with the latest techniques, equipment and training to enable them to deliver the Robinson Services standard. We invest in training and are proud to be a British Institute of Cleaning Science member and Accredited Training Member. We are one of the very few companies in the UK to have established a BICSc accredited Training Skills Suite at our Head Office in Antrim.
Our hygiene division has grown from strength to strength and as part of an on-going commitment to the Environment we have committed to achieving Zero Waste to Landfill in disposing of Clinical and Hygiene Waste.
Due to investment in our Laundry Division, we have seen a year on year growth. We aim to provide the best service as possible, and we are proud to service many hotels, B&B's, Guest Houses and Air BnB's, providing an excellent service at a competitive price. We have our own Laundry based in Antrim with enables us to provide a quick, effective and smooth service to our clients.
We have added the Security Division in order to add value to existing clients and to enable us to provide a combined service, which we believe is key to efficient and effective management of our larger client sites. We have achieved SIA (ACS) Accreditation and are placed in the top 5% of companies in the UK.
Thanks David for your time.