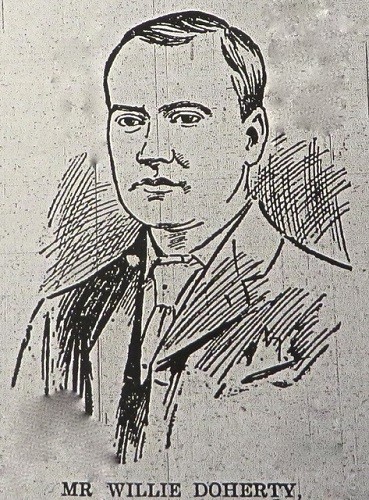 a reflection on the contribution of former stalwarts who gave to Ulster cricket.....
Born in 1864, William Doherty grew up in Ardmore, but later moved to Londonderry. From an early age he was enthused by cricket, and at 16 he was the club secretary at his local club according to John Lawrence's Handbook in 1880. William was to become one of the founding fathers of North-West cricket.
The origins of Ardmore Cricket Club date back to 1860, but matches were infrequent and at times, non-existent. The fixture list was sparse in the embryonic year of North-West cricket and travel was restricted until the trains arrived. William played at Limavady Wanderers in 1883, and matches became regularly home and away to the like of Sion Mills, Donemana and Londonderry.
Despite his enthusiasm William was no star, but he found his niche in administration when the County Derry Cricket Union was formed in 1888. Ardmore entered into the County Derry Cricket Union Cup with 11 other clubs that was won by Limavady. William was elected as the first Secretary, and in due course, the North-West Secretary in 1907 after the Union changed its name.
William was 24 but despite his youth, he was already astute and efficient with good bookkeeping. Balancing the books at the end of the season was a major challenge as the Union was dependent on memberships fees, attendances in the major matches, and sponsorship. As he moved away from his club, he found the administration stimulating and demanding as the Union grew in numbers. The County Derry Cricket Union Committee was delighted with his administration and in 1889 they awarded him a gold watch for his endeavours. However, William was still accountable to balance the books, and despite the generosity of his committee, he didn't feel it right until 1893 when there were sufficient funds to pay for the watch.
William was a bachelor throughout his life, and when the family moved to Waterside in Londonderry, he stayed within his family. Cricket expanded throughout Ireland in 1890, and with the Interprovincial matches in Dublin, the prospect of an Irish Cricket Union was discussed at two meetings. The North-West was lumped within the NCU as Ulster, but the leading hierarchy in Belfast gave scant regard for the County Derry Cricket Union committee. William and his committee were not involved, and for good reason. In his book "A history of Senior cricket in Ulster" Clarence Hiles gave details, and particularly the dilemma that William faced
"The early part of the Derry Cricket Union's existence was one of glorious uncertainty and at times chaos. Clubs entered in and out of competitions at random, and although the knock-out cup was the main competition from 1888-93, it was replaced with a league format from 1894-97. Worse still, from 1898-1902 there was no competition at all, and the future of the Union was in serious doubt. Much of the uncertainty came from the parochial attitude of the rural clubs and the fact that many of them feared being beaten by the strong teams like Sion Mills."
Ironically, the two northern Unions played twice in 1890, in Londonderry and Belfast, but William lamented at the cost with low attendances and train fares. During the 1890s it was almost impossible to sort out fixtures between Londonderry and Belfast amidst the uncertainty. Happily, the County Derry Cricket Union was resolved in 1902, but Interprovincial fixtures were still problematic as 'Home Rule politics and Civil War loomed, and relations with the NCU sunk to its lowest level.
William was a pillar of strength throughout. He succeeded in getting enough clubs to resurrect the cup competition in 1903, and then the league championship the following year. This was no mean achievement, although each of the 13 clubs paid one pound to affiliate, and ten pounds was the annual stipend of the Secretary. It meant tight budgeting for William. He welcomed the lack of NCU matches because of cost, and he successfully targeted cup final receipts to increase revenue. He was a careful custodian of the Union's finances.
Securing employment in Londonderry was tough in the 1900s. To supplement his income William worked at Messrs. AA Watt's Distillery & Co. renowned for Tyrconnel Whiskey, and as Secretary/Treasurer when Clooney Cricket Club was founded. William worked at Clooney in their greatest years during which the club won 6 times 1906-11. It was a happy club and William was a popular Secretary. He was also co-opted onto the Selection Committee and organised excursions for several years to Cliftonville CC in Belfast. The North Belfast club reciprocated to Clooney's ground annually. William was also able to secure an annual stipend of 40 pounds, much higher than the North-West Secretary!
Sadly, at the height of his prowess, he suddenly died in February 1908. At the age of 44 he had much to give after 20 years' service, but his legacy will last forever.
Brigade member Ernest a Pitts (1908-20) replaced him as North-West Secretary, and TS Magee replaced him at Clooney.
There was a large attendance at the funeral at Cumber Claudy for a popular man. Several members of the clergy attended with many other family, friends, workmates and former cricketers. Ernest Pitts represented the North-West Cricket Union, and the Clooney cricket players included RA McIntyre, ST McGuinness, JM Wilton, J Cochrane, HS Wilson and others. The Clooney captain Henry Lecky was unavailable, but sent a carriage. Wreaths went sent from Sion Mils CC, Clooney CC, Messrs. AA Watt's & Co. and Alderman P Chambers JP.
Gone, but not forgotten…William Doherty.
JCH