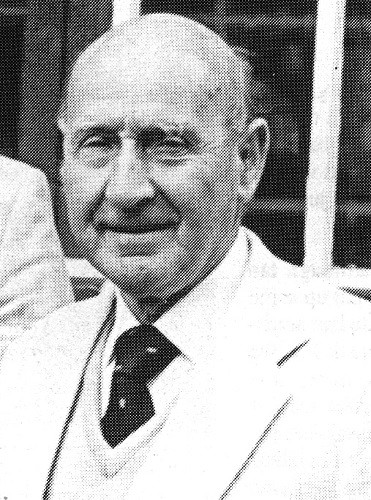 a reflection on the contribution of former stalwarts who gave to Ulster cricket…....
Tom Greenwood was a man of many sports and many interests. He was articulate, a scholar, classics master at Ballymena Academy, and after dinner speaker were also his other attributes. He set very high standards in life, whether in sport, academic, or generally, and seldom suffered fools lightly. Above all, Tom made a huge contribution to the lives of many others.
Sadly, he died on 6 August 1988 on a Charity Walk. He was 73.
Tom was a Ballymena man, born on 5 March 1915 at Harperstown Lane, Cullybackey. He took his name from his father Thomas, and shared his interest in sport. He attended Cullybackey National School and later Ballymena Academy. He was a brilliant student, and won many academic prizes and scholarships throughout his student career. He had great interest in Classics, Latin, French, Mathematics, music and drama. He graduated at Trinity College Dublin in 1939, and remained a bachelor throughout his life.
Tom returned to Ballymena Academy after the war to teach Classics and coach rugby and cricket. At the same time, he enjoyed many other sports and pastimes. They included table tennis, tennis, badminton, soccer, music and drama. He wrote various plays and musicals for the Mid Ulster Drama Club, and was bitterly disappointed when the club disbanded in 1957. He was very community-minded, and a member of Cullybackey Methodist Church. His brother Richard was ordained in later years.
Tom enjoyed many sports, but his greatest passion was rugby and cricket. He never played rugby, but Ballymena RFC reaped the benefit from his enthusiasm, dedication and leadership, both at club and school. Typically, he wanted rugby to be played in the true spirit of the game, and when he felt trophies were not in the true spirit, he proposed a toast to ban them at the 1958 Annual Dinner. It was not seconded, but perhaps tongue-in-cheek, as Tom was witty and droll.
He was elected Chairman for 4 years from 1962-66, and was an inspirational leader in the era of Syd Millar, Willie John McBride, Ian Dick, Wallace McMaster and Maurice Crabbe. He made a huge contribution to Ballymena RFC and in the Centenary 1887-1987 book he produced numerous articles. He had a lifetime friendship with George Burton, at both rugby and cricket, and it was no surprise when the clubs merged in 1968. Tom held the Chairmanship of both cricket and rugby for the first time, and probably the last.
Former Ballymena Academy and rugby club stalwart Maurice Crabbe will never forget Tom's contribution to the club…
"I would say that few have had such an influence upon the lives of so many as he did. Not only in Sport, Music, Drama, and Latin, but also in his standards in everyday life. He was ahead of his time in coaching rugby, especially with the introduction of the game to young pupils. He was my coach during under-13, under-14 and under-15 years. We did not lose a game in 3 years and we finished winning the Medallion Shield in 1950-51. Many of us went on to play for the Senior Ulster team, indeed several played for the Irish International side years later. He was a Man of very high standards in all walks of life. Many people can recall what Mr. Greenwood has contributed to their development.........and I am only one."
Tom always had a strong connection with Ballymena CC, largely through coaching at Ballymena Academy. Apart from teaching, he was coaching every afternoon. When he joined the cricket club in 1956, he was warmly welcomed by the committee. However, it led to a row with the NCU hierarchy. The secretary, then, Sam Allen sent an "undiplomatic" letter to the NCU about relegation after the NCU secretary had "promised it otherwise".
However, Chairman of the NCU Junior Committee Sandy Orbinson reacted angrily to the manner, and as a result, Ballymena CC was summoned to attend a meeting. JB Leetch and Tom were delegated to attend, and after a heated meeting, there was no apology, nor retraction from the club. Tom was a skillful debator, and the meeting ended indecisively with a reprimand. However, the Ballymena committee felt vindicated.
Tom became captain of the 2nd XI in 1958, and proved to be an inspirational leader with both enthusiasm and energy. He was a great organizer in his 4 years of captaincy, during which they were promoted twice.
The club was at low ebb in the 1950s, and he set about rectifying it. He formed a strong allegiance with Cyril Ridge and George Burton, and when Tom was elected Chairman in 1960 his committee greatly improved the ground and facilities at Eaton Park. Tom was an excellent committee man, and held office for 11 years during which time a number of trophies were won, new members joined, a 4th XI was added, and the cricket club merged with rugby in 1968. In the 1970s Ballymena cricket was in a healthy state with the influx of Trevor Halliday, Wesley Cairns, the Goodrich brothers, Wilfie Ridge, Jimmy Boyce, Dessie Kane, the Cook brothers and stalwart John Caldwell. Tom became more involved with NCU cricket and gained an NCA Coaching Award in 1972.
He was elected Chairman of the Senior Committee in 1976-77, the first from the Ballymena club. In 1979-80 he was elected President of the NCU, and later became an Honorary Life member in 1983. However, he never lost his roots, as he took on the Chairmanship of the club in 1980, was NCU Division IV Chairman of Leagues in 1981-82 and PRO of the rugby club for several years in the late 1970s.
He also spoke passionately about restricting bowlers at the 1983 AGM, and received plenty of support when he carried the motion. Tom was well acquainted to speaking, and loved a gallery. He spoke at many after-dinner functions and combined his witty anecdotes with a serious message if required. Above all, he was an entertaining speaker that many people felt had no equal.
In August 1988 Tom took ill suddenly at a rugby club fund-raising walk, and sadly died. He was still Chairman when he died. Tom was laid to rest at Cullybackey Old Methodist Church graveyard in a beautiful setting alongside the river Maine.
The following season Ballymena CC hosted a special luncheon and celebrity match between Ballymena President's XI and Ian Lewis' Irish President's XI. The club also unveiled a Memorial Honours Board in his honour in the clubhouse, and his brother
Rev. Richard Greenwood performed the unveiling. Rugby legend Willie John McBride, NCU President Jim McMorran, ICU President Ian Lewis, Ireland Captain Stephen Warke, and his good friends George Burton and John Caldwell also attended it. The ceremony was well attended for a true stalwart.
Ballymena CC also donated a trophy- "Tom Greenwood Cup" for NCU U-13.
Tom Greenwood made a significant contribution to many lives, and he will be remembered as a man of high standards, integrity and dedication.
"Gone, but not forgotten…Tom Greenwood."
JCH