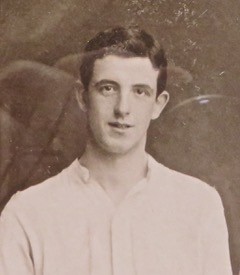 a reflection on the contribution of former stalwarts who gave to Ulster cricket….....
Sydney Jackson was one of the greatest NCU stalwarts in history. He ranks alongside Willie Andrews for longevity, and I doubt they will be equalled for commitment and dedication.
Sydney was one of six sons that his father William brought into cricket. William was the cornerstone of the Ulster Cricket Club and a pioneer of NCU cricket. He served as NCU Chairman of the Junior Committee 1891-95, and was succeeded by John Miller Andrews, later to become Prime Minister of Northern Ireland. His father was blessed with two cricket International players, Finlay and Harold. Finlay was also capped for Ireland at rugby. Sydney was also an outstanding all-rounder in his era, and later became a doyen administrator. Sadly, his brothers Balfour and George fell in the Great War.
Sydney Herbert Jackson was born in 1886 at Ormeau Road, Belfast, and became a Chartered Accountant. He made his first significant presence at 23 in NCU cricket with a phenomenal performance in the 1909 Senior Cup Final. Facing the kingpins of NCU senior cricket, North Down, Ulster scored a record-breaking 457 in the 1st innings. Sydney's contribution was 92 in an opening partnership of 147 with JA Diamond (96). It resulted in a resounding win by an innings and 89 runs, the first victory by the club.
Ulster repeated the Senior Cup victory in 1911 against Cliftonville, but they got a reversal the following year facing an exceptional performance from Oscar Andrews. He took 5-17 and 9-44 and scored a half-century to star for North of Ireland. Sydney barely deserved the defeat, as he had starred pre and during the final. He scored 99 against Lisburn in the 1st round, took 8-43 in the 2nd round, 6-25 in the semi-final against Queen's University, and was undefeated 52no when all his partners had been destroyed by Oscar's performance.
Many people at the time were hugely disappointed that the Ulster skipper was robbed of his greatest hour, but Sydney and Oscar vied with each other as the best all-rounder.
Sadly, the Great War robbed cricket between 1914-18, and many young cricketers fell. NCU cricket was slow to recover with so many lost lives, but it did. Sydney also took another direction in cricket when he succeeded Bob Erskine as the NCU Hon. Secretary in 1920. He also found himself embroiled into Irish cricket.
The concept of an Irish Cricket Union had been mooted 30 years earlier when the Interprovincial matches first started in 1890 in Dublin. However, the NCU delegates couldn't agree within their committee, and three decades were spent squabbling between Dublin and Belfast. Ironically, after the Great War there was more interest about the ICU, mainly through Willie Pollock and Willie Andrews. They privately negotiated with their Dublin associates and then brokered it to the NCU Committee.
Amazingly, after 30 years of bickering the NCU agreed, and the Irish Representative Cricket Control Committee (IRCCC) was formed at Thompson's Restaurant, Belfast in November 1923. The IRCCC became the Irish Cricket Union and Sydney played a significant role in Irish cricket history.
Sydney added to his NCU portfolio when he became Hon. Treasurer 1923, and then Chairman of the Senior Committee in 1929 after the death of Bob Erskine the previous year. Sydney Jackson continued to play for Ulster in the 1920s, and occasionally captained the Rest of Ulster teams. He occasionally played for North of Ireland, as it was common to play for another club in that era.
Sydney's biggest disappointment in cricket was the disbandment of the Ulster club in 1931. The team had been defeated in the Senior Cup Final by their old adversaries North Down, but their AGM was still a major shock for the cricket community. The newspaper said it was reputed to be financial difficulties.
However, it was strange to see some of the best Ulster CC players performing at new clubs, and the main beneficiaries were North of Ireland, CPA and Woodvale. The Morgans and the Jacksons went to Ormeau, and Linfield footballer Billy McCleery went to the Ballygomartin Road club to write his own history in cricket archives. Sydney played thereafter at North of Ireland, but he always lamented the grassroots he had learned at Ballynafeigh Club from his father.
Sydney Jackson gave Trojan service to the Northern Cricket Union and the Irish Cricket Union. He was a tower of strength, and skilfully guided some of the biggest challenges facing both Unions. The Irish Cricket Union formation was a personal achievement, cajoling the NCU Committee, which ultimately led NCU and North-West players to be selected for Ireland, a thorny issue for decades. He also handled the World War II years with diplomacy and understanding. Inevitably, there were tough decisions to be made, but he was up for it when needed.
It was unprecedented that Sydney held the various offices over the years, and unlikely to be repeated again. Sadly, he died in 1948 after a short illness. He was 62.
In total, he was NCU Hon. Secretary 1920-40, NCU Hon. Treasurer 1923-47, NCU Senior Committee 1929-47, NCU President 1938-45, and ICU President 1946. Some record!
Writing as 'nom de plume,' alias 'Arbiter,' Jimmy Picken paid him a handsome tribute writing an article in the Ireland's Saturday Night on 16 June 1924…
"The Northern Cricket Union is lucky in having as its Hon. Treasurer, Mr. SH Jackson, and as its Secretary Mr. Samuel Clarke. Sydney Jackson is a cricketer, who always play the game fairly and anyone who has had the pleasure of bowling to him must have been struck with his remarkable deference. This is not the time nor place to dwell on Mr. Jackson's great business abilities, but the Union is lucky to have as its Treasurer a gentleman of his financial experience."
Jimmy Picken succeeded him as NCU Hon. Secretary 1940-61, HE McDowell succeeded him as Hon. Treasurer 1948-54, Willie Andrews succeeded him as NCU Chairman of the Senior Committee 1948-66, Earl Granville succeeded him as NCU President 1946-47, and RH Lambert succeeded him as ICU President 1947.
As an aside, Sydney's good friend Willie Andrews also served for 18 years, after which the NCU changed the Constitution to define its NCU Chairman and restrict the office to two years.
Sydney Jackson and Willie Andrews were both exceptional individuals.
"Gone, but not forgotten…SH 'Sydney' JACKSON."
JCH