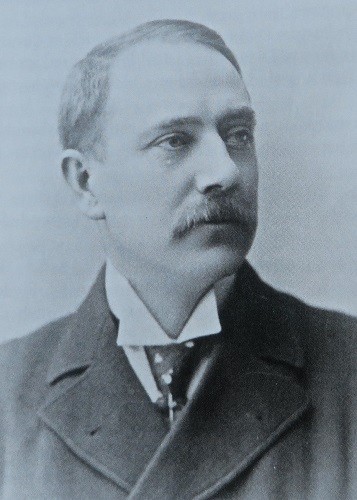 a reflection on the contribution of former stalwarts who gave to Ulster cricket....
North Down bowler Sam Turner belonged to another era, and although he played over 140 years ago, his legacy remains in folklore.
It was the era of underarm bowling and although roundarm bowling had started around 1845, Sam developed the art of underarm 'lob' bowling, better known as 'grub' bowling. Cricket was totally underarm prior 1845 and similar to bowls, as the bowler rolled it to batsmen. In time, the Laws allowed bowlers to pitch the ball and the game took off leaps and bounds as batsmen could actually hit the ball better, which produced more entertainment for the spectators. Inevitably roundarm, and overarm bowling replaced underarm by 1900.
In 1981 Australia beat New Zealand in a cantankerous and controversial exchange that brought another change in the MCC Laws. It happened in the 3rd match of a 5-Match ODI Series with the teams tied at one win each. In the final over New Zealand needed 14 to win and after 5 balls they needed 6 to tie. Controversially Aussie Captain Greg Chappell instructed his brother Trevor to bowl underarm and deprive the batsman Brian McKechnie the opportunity to hit a six. As the bowler rolled the ball gently to the stumps McKechnie patted it back in disgust. The world of cricket was furious, as the spirit of the game had been tarnished. Australian and New Zealand Prime Minsters, TV Commentator Richie Benaud and former Captain Ian Chappell all condemned the Captain's action.
Unfortunately, the Rules of this competition neglected to exclude underarm bowling in that Series. As a result, the ICC in limited-overs cricket banned underarm bowling. Ironically no ban applies for Test cricket as long as both teams agree. However, it seems unlikely after that debacle.
Sam Turner didn't enter into controversy because his action was perfectly legal in the absence of the roundarm and overarm era. Roundarm became established after 1850, although up until 1900 most local senior teams included 'lob' bowlers, often called 'sneaks.' North Down were well placed to meet the demands of senior cricket when the NCU Challenges Cup started in 1887 and later in 1896 when a Senior League Competition began.
Sam was weaned in Comber playing his cricket in the Square, and later at 'Clumpy Knowes', close to the Ballygowan Road with his brother Willie. He was enthusiastic from the outset, and often taken as scorer for the Firsts. But when the team was short at the eleventh hour, the youngster made his debut alongside his brother. As a result, he retained his place for over two decades to form the most destructive attack in the North.
Willie was a prolific 'trundler' and reputed to be 'the best of the North and possibly all of Ireland' according to JC 'Jimmy' Picken, the NCU Secretary, who wrote for the "Ireland Saturday Night', known as 'the Pink.' The combination of Willie and Sam was joined by Tommy Graham to form the most devastating attack in Ulster. Many scribes at the time felt the main reason that North Down were so successful was they fielded two 'lob' bowlers. It was awesome, and they competed with the best attacks of the NCU, including Ireland's Tom Hanna from Ulster CC, Willie Vint, North of Ireland CC and Frank Williams Cliftonville CC.
Sam's record of NCU Senior Cup medals was impressive, although he modestly always attributed it to his team. He won 7 medals from 1887-1894, but quite often the main reasons were the Turner brothers and Tommy Graham. Sam's best performance was in the inaugural Senior Cup Final against North of Ireland at their home ground Ormeau. His figures were 5-25 and 3-37 and 19 with the bat.
Once again, a quote from Jimmy Picken, alias 'Arbiter'…
"While he never reached the high standard attained by his brother Willie, still with his 'grubs' he got many wickets and was invariably very successful in breaking up partnerships. He was known as 'a forlorn hope' as a batsman, ie; one possessing the necessary temperament who could be relied upon to come off at some critical stage of the game, and he would either hit out or stonewall. He was admirably suited for such emergencies. As a stealer of runs he was eminently successful and in the company of his brother Willie and Tommy Graham he led the fielders many a merry dance."
Sam was a terrific catcher at 'silly point' but often warned by his Captain John Andrews Jun. as he feared he would be killed! However, his bowling was his finest asset. Bowling underarm he fluctuated with pace and his twist with the wrist meant batsmen found it impossible to handle the vicious spin. He was very accurate and he mastered the art of 'lob' bowling early in his life playing in the village before he joined The Green.
Former North Down 1st XI Captain and Historian Ian Shields added some comments…"
"Grub bowling in the early days was the only legitimate means of delivery, but by the time our club was founded in 1857 competitive cricket had begun in the North it was mainly roundarm and overarm bowling. We know that Sam Turner was a grubber specialist and as a consequence, a cricketer with few runs scored against him. It was difficult to hit boundaries off a grub ball as Greg Chappell proved in a notorious incident against New Zealand in 1981. Sam, and brother Willie were automatic selections on a North Down side that formed the club's first Golden Era and Sam collected seven consecutive Cup Winners' medals, but Willie took the most wickets by far with round arm deliveries."
He was a great clubman too, and when North Down produced Concerts in the early 1890s he was totally involved. Sam was a popular raconteur with his witty and musical cameos. With his brother Willie they often performed a duet 'Two Mariners Bold' and 'Gendarmes Duet' for fund-raising and local Churches.
In later years Sam moved to Belfast and regularly watched cricket at Cliftonville. Sadly, he died in the 1930s, but one interesting aside was when his son Samuel presented all 7 medals to the club in 1935. The beautiful presentation with photograph now sits in the clubhouse at The Green to this day.
One wonders how the North Down attack would look like after 150 years?
"Gone, but not forgotten…Sam Turner."
JCH