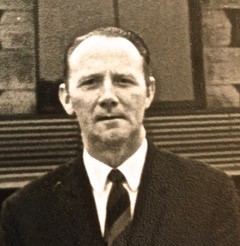 a reflection on the contribution of former stalwarts who gave to Ulster cricket…..
The old cricket brigades often lament about the lack of characters. The game has changed dramatically in the modern world. However, Pat Rogan, the former North of Ireland scorer was certainly a character! Stories are legendary of a much-loved former Headmaster, who won friends all over Irish cricket and far afield.
Patrick Gerard 'Pat' Rogan was born on 2nd April 1919 in Victor Street, close to Woodstock Road in Belfast. His father owned a spirits merchant grocery shop, but in the post-war era Belfast was rife with bigotry and sectarianism and sadly, the family home was burnt down and they fled to a grandfather, close to Rasharkin in County Antrim.
Pat then moved to Antrim town where his father bought a pub that included a house in the same building, and as luck would have it, Pat was close to Muckamore Cricket Club, and his relationship with cricket began. Interestingly, the living quarters has long since gone, but the original building remains, and is now a famous pub/restaurant called "Top of the Town."
The young Rogan was intrigued by the intricacies and subtleties of the game, a love and affection that he never lost throughout his life.
During the Second World War he was enticed to score for Muckamore, and sampled his early taste of Ormeau after they lost to Woodvale in the 1941 NCU Senor Cup final. Ironically, he was to spend a lifetime with the North stars that followed.
Pat was a boarder at St. Malachy's College and his career looked likely to be in the Priesthood after 6 weeks at Maynooth College, but he eventually opted to go into teaching after a short time working in the Civil Service. He attended Queen's University and trained at St. Mary's College as a teacher. His first job was at St. Joseph's Primary School, and he never left. In 1976 he was appointed Headmaster, and from all accounts he was an excellent teacher, much-loved by parents and pupils. He retired in 1982.
Pat married Norah McMullan in June 1945, and left Antrim to live in North Belfast. He travelled to work by bicycle, and his transport was not to change as Pat never drove. Bus, bicycle or friendly lifts was his mode of transport, and it served him well in life. When he moved house to Ballyhackamore in 1953 close to the school, travel was less challenging.
Pat never lost his cricket enthusiasm, and became a regular spectator at Ormeau. Several of the players were often bemused when Pat arrived at the small grandstand with his bicycle, lunch and scorebook in his little bag. He was always immaculately dressed, and regularly wore his Queen's Graduate tie. He often said he watched the 'Golden era' of North of Ireland and reminisced about great performers such as EDR Shearer, Stuart Pollock, Eddie Marks, Stanley Hewitt, Jimmy McKelvey, Sonny Hool, Derek and Basil McNamee. He rolled off the names sweetly when he lamented the 'old days.' When in full swing, he would often eulogize on this other passion, Celtic Football Club. Once again, he sweetly rolled off the name - Jock Stein, Jimmy Johnstone, Tommy Gemmell, Bertie Auld, Danny McGrain, Bobby Murdoch, and the greatest, of them all, Billy McNeill.
Another passion of Pat's was his great interest in greyhound racing. He cycled to both Celtic Park and Dunmore Stadium, and although he wasn't a serious punter, he was well informed of the dogs that were likely to win.
Sydney McClurg had been scorer for NICC 1st XI for many years, and when he retired from the score-box stalwart John Law coerced Pat to fill the vacancy. It opened a new world for Pat, the opportunity to mix with fellow cricketers, to meet new friends, and to share a host of stories. Pat's greatest indulgenced was in the guise of philosopher. He had a sharp wit, a master of debate, and was impossible to antagonise. He was too much a Gentleman. He loved a little bit of banter, and was regal at the bar when North and Celtic won. He toasted his glass for both.
As the generation passed, another arrived in the company of Phillip Billingsley, Paul Jackson, Simon Corlett, Billy Kirk, Herbie Parkhill, David Johnson, Rex Gilliland, Gordon Scott, David 'Vanburn' Heaney at al. It was rare if Pat wasn't available to score, but his son Michael was a capable deputy, with the grand title of 'Assistant Scorer'.
Pat was great company with fellow scorers, and they loved the friendly repartee. He usually listened to Celtic matches in his little transistor radio, and everyone accepted his obsession. When players walked in front of the score-box, he had a friendly exchange. Everyone knew him, as his popularity was huge. After the match, he was the Doyen at the bar, win or lose, and he cheered when the Celtic results announced a victory.
Pat was also well known to opponents, and particularly at Waringstown, the kingpins of the era. He was a good friend with Stanley Holland, the Waringstown scorer, Roy and Muriel Harrison, and Eddie Bushe, the former Irish International wicketkeeper.
Eddie has fond memories of Pat, but the topic was not cricket, it was football! Pat of course, adored Celtic FC, and Eddie adored Rangers FC so the banter was always rife when they got together. Their bond was strong, and Eddie tells a lovely story when Pat invited him to celebrate his birthday…
"What a character. I was invited to his 90th Birthday at the Park Avenue Hotel, in East Belfast, close to his home. As usual, he introduced me to all and sundry, as 'The Rangers supporter who saved his life!
The occasion that Pat referred to was after an Old Firm Cup Final at Hampden Park in mid-1980, which Rangers of course won. Three friends and myself were on the Stranraer to Larne boat on our way home, and along with hundreds of others happily discussing the game. One of my mates came back from a visit to the loo, and announced there were a couple of Celtic supporters in the lounge.
For those unfamiliar with Rangers-Celtic games, the Protocol for Rangers fans was to travel on the Stranraer boat, and Celtic supporters on the Cairnryan boat. I confess, I had to take a look for myself, and 'lo and behold', it was Pat Rogan accompanied by his son who was wearing a Celtic scarf. And I wasn't the only one who had heard the news, and a few guys with a little too much drink, were less than happy. You could sense things could turn nasty very quickly, but I immediately sat beside him. Pat was more than happy to see me, and he agreed it wasn't the most sensible decision to wear Celtic colours on this boat.
Anyway, I was able to defuse the situation, and much to Pat's great relief, we reached Larne, happily without incident. When we met thereafter it was natural that the topic of conversation was in the bar, and of course, depending on the alcohol intake, the story was slightly exaggerated!

It was the only occasion that Pat swore, as the two Rangers guys were ready to push him over the boat until I intervened!
But what a great character."
Pat collected a host of stories throughout his life, but perhaps not as hostile!
Pat retired from the score-box in 1994 after 26 years of friendship, camaraderie, and fun. He loved cricket, and he loved North of Ireland Cricket Club. He felt honoured and humbled, after he was awarded an Honorary Life Member of NICC.
Pat loved to travel, and for his 80th birthday his family took him to New York, and also holidayed in Berlin, and the Lake District. When he travelled to meet his son Michael, he always used public transport to watch cricket at Old Trafford and support his beloved Lancashire County Club.
But Pat was not so fortunate, especially in the twilight of his life. Sadly, his daughter Deirdre died in 1950 at 8 months from encephalitis, his wife died in 1996 from a severe Stroke, 6 years earlier, and his son Gerard died from a brain tumor in 2003. He never got over the loss, and was always quiet when anniversaries reminded him.
In 2004 Pat suffered a severe Stroke which left him immobile, but his speech and his ability to read were saved. He adapted well to his disability, and with a wheelchair he was able to visit cricket matches. Michael even arranged for him to watch when Lancashire played at Liverpool Cricket Club. His daughter Joan gave him Trojan care and assistance at home.
Despite his illness, he celebrated his 90th birthday at the Park Avenue Hotel, which was attended by his family, friends and cricket colleagues. The room was packed to celebrate a great man that endeared so many people in their lives. Eddie Bushe has already alluded in this story, and Pat made a wonderful speech. The hand-written personal greetings were treasured to the end.
Sadly, the end happened shortly after a second Stroke effectively robbed him of life, and after a few months, he died on 19 October 2010. His funeral was well attended by a large gathering at St. Colmcille's Church, Ballyhackamore. His old friends at North were in the congregation, including his good friends Wilfie Hanna, Dr. Michael Crooks and Rex Gilliland and Gordon Scott.
Gordon gave an emotional and moving Eulogy that followed. He referred to Basil McNamee, who was in Australia at the time, and he recalled wonderful memories of his quiet smile and gentle humour.
Gordon then added…
"Most people will know that Pat never learned to drive, so he relied on various friends, including myself, for transfer to and from games. Of course, there was always an invitation into his house at Kerrsland Drive when leaving him off home, and once there, escape was quite difficult. But being Pat, and with cricket to debate, time generally flew with Pat's humour and fatherly advice to the fore."
Perhaps Gordon should have the last word when he said
"He was one of the finest men I have ever known."
Pat was laid to rest at Roselawn Cemetery, and buried with his North of Ireland tie that he always treasured.
"Gone, but not forgotten…Patrick G 'Pat' Rogan."
JCH