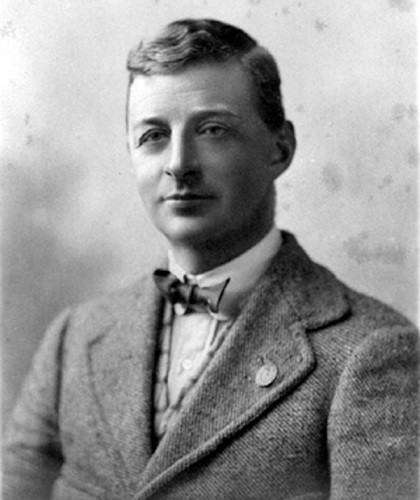 A reflection on the contribution of former stalwarts who gave to Ulster cricket…
From all accounts Margaret Waring was a remarkable woman. She was born in 1887 and died in 1968 after 80 years devoted to the Waringstown community and particularly to Waringstown Cricket Club. Pictured right is her husband Holt Waring.
She was from Warrington in Cheshire, and met her future husband at a dinner when she visited her older sister Elinor, who had married the Earl of Roden and lived nearby at Bryansford. Margaret Alicia Parr married Holt Waring on 14 April 1914 and established a bond with the village that remained forever. Sadly, the marriage was denied by war, after Holt was killed in action in 1918 during the Great War. His brother Ruric also died in 1914 when HMS Hawke was sunk.
Waring is synonymous with the village of Waringstown after William Waring bought the land at Clanconnel in the Parish of Donacloney in 1658. Thomas Waring was his Great, Great, Great Grandson, father of Holt Waring. He married three times.
Thomas was a staunch loyalist, an Hon. General of Royal Irish Rifles, and founded Waringstown Cricket Cub in 1851 with the Henning brothers. He was elected MP to the House of Commons, a Grand Master of the Orange Order, and a Mason. When he suddenly died aged 69, his eldest son Holt succeeded his estate, including Waringstown House. By the time Margaret married Holt, she knew a lot about the Waring legacy, and its traditions.
Holt Waring was a soldier and followed the traditions from his father. He inherited the estate in 1898 at the age of 21, and was a wealthy young man. He was a Major in the North Irish Horse when the Great War started, and then moved to the Royal Irish Rifles in 1916. He was mentioned in despatches at the Boer War in South Africa.
He occasionally played for North of Ireland, but mainly at Waringstown and was a member of the team that won the NCU Senior League Championship alongside his brother Ruric. He missed many matches during his army service, including two cup finals against North Down in 1913 and 1914. Waringstown won for the first time, and at the presentation the NCU broke with tradition when Mrs. Margaret Waring received the trophy. A resounding 'three cheers' followed.
Holt had been President of the Club at the time of his death. He was fatally wounded when under attack from Artillery at Kemmel Hill in France in April and tragically, his death was barely six months after the Great War ended.
Margaret Parr was the youngest daughter of Joseph C Parr, a wealthy banker, industrialist and landowner when she married Holt in April 1914. After his death, Mrs. Waring devoted her life to his memory, and to his village of Waringstown. She often wore black in respect, and never remarried, although she must have received a lot of attention. She was attractive, highly-respected, wealthy, strong-willed, devoted to the community, influential in high places, a pioneer for woman rights, and a Lady in every way.
She loved cricket, and played a big part in the development of Warinstown Cricket Club, the Northern Cricket Union and Irish cricket in general. Some said she was ahead of her time, perhaps a Woman in a Man's World, but she could handle herself in any company.
Mrs. Waring must have been tempted to return home after she had lost her husband, but with her sister close nearby, her home became Waringstown. And she was proud of it.
From the outset, she was up for everything. She set up the British Legion, helped to set up the War Memorial in 1919, served as a Justice of the Peace, donated generously to the Primary School, was a Grand Mistress in the Orange Order. She was also a staunch Unionist, and became MP for Iveagh District in 1929. She was the only woman to be elected in Northern Ireland and only the third ever. She was an active MP and set up public meetings to involve the community. She served as a Member of the NI Pensions Committee. However, when the election took place in 1933, she declined to stand again, much to the great disappointment of the community.
In 1933 she was awarded the CBE for political, philanthropic and Public Services. However, she continued to keep a strong interest in Public Affairs and joined the Board of Unemployment Assistance in 1934. In between she rebuilt many parts of Waringstown House in 1932.
Mrs. Waring had a passion for cricket and went to most club matches, home and away, despite her heavy commitment to other activities. She was a member of the Waringstown Cricket Committee and was elected onto the NCU Committee in 1923, unknown territory for a young woman in a chauvinist world! Nevertheless, she was accepted with her good knowledge of the game, and her generosity. She served for 10 years on the NCU Committee.
In 1954-55 she was elected NCU President, the first and to date, the last, woman to be elected President. She was a unique woman, much-loved and will always have a place in Irish cricket.
Mrs. Waring was a driving force in any Committee. She always wanted to improve The Lawn, and one important milestone took place in 1924 when the old wooden hut was replaced with an impressive new pavilion. The opening ceremony took place early in the season and Willie Pollock, the Ireland and North of Ireland batsman, performed the duties. Mrs. Waring addressed the audience, something she had become well accustomed to doing over the years.
Her generosity was also much in evidence when the Munster Interprovincial team visited North for the first time in 1924. The two matches were played at Ormeau, but after the game ended Mrs. Waring hosted both teams and Officials to dinner at Waringstown House. This was a great occasion, and the host was showered with praise from the Officials. And of course, she couldn't resist the opportunity to show the magnificent NCU Senior League Trophy that the club had won recently. In his speech NCU President Bob Eskine praised her further…
"Waringstown's success on the cricket field was largely due to the encouragement and assistance received by Mrs. Waring. Everywhere that Waringstown went Mrs. Waring like the little lamb went to. Mrs. Waring allowed the club to play in her beautiful demesne, and she had done more than anybody could realise in the interests of the boys. And her interest was not confined to cricket by any means, she took a great interest in everything connected in the village of Waringstown."
In his comments Jimmy Picken, alias 'Arbiter,' spoke glowingly in The Ireland Saturday Night
"She is the real livewire and her work for the club is reflected in its long conspicuous success. The club has always been a sort of brotherhood, and the esteemed Patron exercises a motherly eye over all its activities."
There is no doubt the NCU and Ireland hierarchy had a great affection for Mrs. Waring, and the icon Willie Andrews summed it up simply…
"She has a unique position in the annals of cricket in the world. She is the only Lady on a Senior Committee and Governing Body."
Margaret Waring was certainly a 'Woman in a Man's World' mixing with the Icons of Irish cricket. Her health declined in the 1960s, which curtailed watching matches in the ground, but she was often sitting in her deckchair from afar.
She died in May 1968 after a sterling innings in her life.
Gone, but not forgotten…Margaret Waring.
JCH