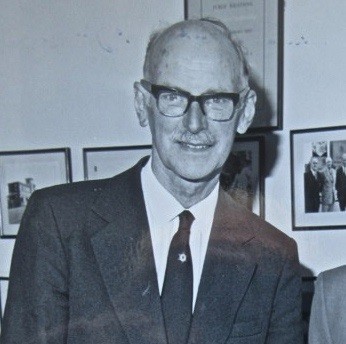 a reflection on the contribution of former stalwarts who gave to Ulster cricket…...
Major Gordon Ormsby was Secretary of the Northern Cricket from 1959-1981. He retired in October 1981 after a period of illness from cancer, and died the following year. He was in his Seventies.
Gordon ended a long list of Hon. Secretaries of the NCU after the Executive Committee changed the role to General Secretary. A South Englishman with a strong accent, he was a military man, and was based at Thiepval Barracks, Lisburn, during the war. He was a Regular Army Officer reaching the rank of Major, and when he reached the retirement age for Officers, he took a job at Thiepval Barracks as a local Administrator for the Army Sport Control Board. He was responsible for inter-unit competitions and representative Army teams across a wide range of sports. He set up home in Lisburn.
His appointment as Secretary was well received within the Union as he brought both experience and efficiency. He succeeded Leslie McClay and had a different culture with his military background. From the outset he was thorough, and didn't suffer fools. He found friendship and affinity with EDR 'Donald' Shearer, President of the NCU 1959-61, and long-standing Willie Andrews as Chairman 1928-66, both with military backgrounds. I visited him at his NCU office at 49 Malone Road delivering a letter from the North Down Secretary, and was never in doubt as to who was in charge or any cordiality. He was simple and authoritative, perhaps frosty, akin to being reprimanded!
NCU Vice-President Roger Bell remembers him well during the same era;
"I remember Gordon, or Major Ormsby, as I always called him, as I was very young at the time, from my early days as a League Secretary and as Hon. Secretary of Carrickfergus CC. He was very much an authority figure, and he ran things very efficiently and along military lines. He let you know who was in charge, and the rules were applied to the letter of the law. He could also be very helpful, and I learned a lot about how the Union worked from him in my early days of being involved".
Gordon proved to be an excellent Hon. Secretary, and if perhaps too meticulous, at least everyone knew where they stood. He guided the Union through some difficult years as the Umpires Association was in their embryonic years, and the Senior Committee and Junior Committee were often at logger-hears after a frosty relationship dating back several decades. It always appeared to be counter-productive for cricket, so Gordon aligned with Donald Shearer and Norman Entwistle from Muckamore to resolve the many issues, and in 1975 a new Constitution sorted out many problems with equal status for all clubs after 90 years of squabbling.
Gordon also played a role in the Umpires fraternity, and umpired twice at Ireland matches. He loved cricket, and had acquired the Umpiring qualification within the Army prior to NCU duties. He umpired two matches at Ormeau, both with his good friend Dai Jones when Ireland played against Leicestershire in 1960 and Richie Benaud's touring Australians in 1961. At that time Ireland played three times in 1960 and five matches in 1961 in contrast to the modern era.
The Aussies came at the end of their tour after a 2-1 victory over England in the Ashes Series. A big crowd welcomed the tourists, one year after North of Ireland CC and RFC had celebrated their Centenary. Richie Benaud honoured them with a strong team including Bobby Simpson, Graham McKenzie, Norman O'Neill, Ken Davison and wicket-keeper Wally Grout. The 2-day match in Belfast was drawn, although Australia won in Dublin two days later.
I'm sure Gordon regarded it as the highlight of his cricket career, such was the status of the Australian Test players, and in particular the charisma of Richie Benaud.
Sadly, Gordon succumbed to cancer in October 1982, but I'm sure he would have been pleased when he left his station after 22 years. He played an important role in building the Union with George Orr of YMCA who was NCU Hon Secretary from 1968-72 and 1975-80 as well as being Chairman from 1973-74, RUC stalwart Jack Newell, President 1981-82 after four years as a Divisional Chairman, Lisburn's Tom McCloy also a Divisional Chairman and Union Chairman in 1980-81 after a distinguished career opening for Ireland, Jim McDowell as the new General Secretary, Dr. Murray Power Hon. Treasurer since 1976, and a strong Executive Committee that included four International players Raymond Hunter, Ivan Anderson, Given Lyness, and Ken Kirkpatrick.
Most people will remember Gordon as a private person, efficient and experienced, which added much to the calibre of the NCU hierarchy.
"Gone, but not forgotten…Major Gordon Ormsby."
JCH