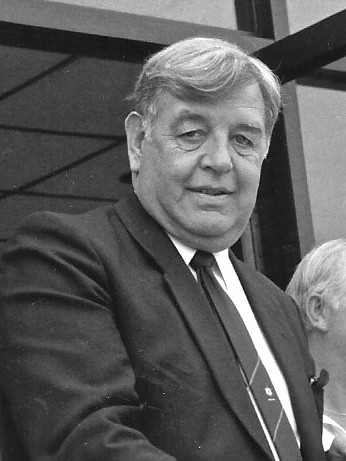 a reflection on the contribution of former stalwarts who gave to Ulster cricket....
A big man in every respect, Jim McMorran gave tremendous service to club and country. He was highly respected amongst his peers, the ultimate accolade. He was a gentle giant in so many ways, and behind his gruff and sometimes loud personality, there was a soft centre and a heart of gold.
Jim became Northern Cricket Union President and Chairman rising from the ranks of Junior cricket to the highest level of administration within our Union. He was also an Honorary Life Member in respect of over 50 years' service.
Sadly, he died on 31 October 2008.
A Belfast man, Jim's cricket career began at St Mary's Cricket Club in North Belfast and later at Ulidia CC. The Ballynafeigh club was founded in the 1890s and won three Junior Cups in 1892, 1911 and 1953. His bowling prowess won't be remembered, but his batting was solid rather than outstanding. However, he was a good captain and encouraged many players to the club.
He made his "debut" in the Northern Cricket Union representing Ulidia on the Junior Committee. He was a born administrator and the roots instilled within the Committee drove him to improve the status of the Junior ranks, as the Senior Committee was all-powerful and ruled supreme. Jim played his part in the change that brought equality in 1975 when the NCU Annual General Meeting amalgamated the Junior and Senior Committees, a row that had been simmering for over 50 years!
Sadly, Ulidia folded in 1962, but most of the members switched to Cooke Cricket Club and another chapter in the life of Jim McMorran began, including an appearance in the Junior Cup final in 1975. Unfortunately, they lost to a strong Downpatrick Seconds.
Gradually Jim set aside the Junior Committee battles and became integrated within the NCU hierarchy. He was a hard-working Section Secretary in league committees, the hub of NCU competitions, and was Chairman of Division 3 from 1980-88. He succeeded Michael Rea as President of the NCU in 1987, a great triumph for the Junior brigade that had only seen two NCU Presidents in 101 years, namely JA "Sandy' Orbinson 1966-67 and George Orr 1983-84.
His two-year tenure brought him into a new world of senior cricket and he made many friends throughout the clubs. Jim was no dinosaur in cricket development and he led several visionary initiatives at the time. Never short of an opinion, most people appreciated his forthright, no-nonsense manner, especially during the height of the contentious and controversial involvement of overseas professionals. He often said "you either want them or you don't, and if not then ban them completely!
Jim never sat on the fence on any issues!
Aside from his Presidency, Jim continued his work on improving the standard of grounds and made many visits travelling to clubs with Dai Jones, Beattie Arlow and Ivan Reid. Jim was also involved in sponsorship and played his part in the Touche Ross sponsorship deal that boosted the NCU Senior Challenge Cup rounds and epic finals.
Jim took his Presidency role like a 'duck to water.' In addition to the many formal engagements like cup finals, Annual dinners, AGMs and meetings, he particularly enjoyed meeting with old friends from junior clubs. He never forgot his grassroots and often reminisced with lifelong friends George Orr and Jim Barry, usually with a few drinks in the clubhouse
He enjoyed mixing with some of the best cricketers in the region, and the tour to Bermuda to celebrate the NCU Centenary was a huge bonus for the President. He was accompanied by Ireland Internationals Alfie Linehan, Stephen Warke, Paul Jackson, Ross McCollum, and the legendary Jimmy Boyce. Jim got the taste for touring in the Caribbean and later enjoyed with the Cooke members visiting Barbados in 1992. His wife Valerie was there too, as ever supporting him in everything he did.
It was normal for the President to retire after his tenure, but Jim McMorran was not the typical man. He continued to work with both club and Union and I was delighted when he took the reins of Chairman of the NCU after I had completed my stint in 1990-91. Once again, he was in the hub of local cricket and he loved it. And once again he attained history, as it was only the third time a member from the Junior ranks attained this office. He succeeded George Orr 1973-74 and his Cooke CC colleague Doug Loker 1978-79. During his tenure Jim added another dimension with his involvement in the Ireland Cricket Union as an NCU delegate that met several times each year at Ballymascalon Hotel. After 2 years Ian Gourlay succeeded him as NCU Chairman.
At club level he was a driving force in Cooke's move from Upper Galwalley to Shaw's Bridge, and a strong supporter of the merger with Collegians CC in the late 1990s. He was also the Chairman of the Northern Ireland Cricket Association when they appointed the first Cricket Development Officer.
Unfortunately, Jim suffered a stroke in Zimbabwe in 2006 when he and Valerie and their friends accompanied the Ireland team. Sadly, he never fully recovered despite his courageous fight to face the impossible. It ended his formal involvement and a sad ending after over 50 years serving the sport he loved. He died in October 2008 and at the Funeral Service his close friend Bryan Milford, General Secretary of NCU, gave a moving Eulogy.
This extract says much for the man;
"And then illness struck with two severe strokes. Most people would have been bedridden for the rest of their lives. But the courage of Jim meant that he was determined to lead as full a life as possible – and he did. At all of the important events in the Cricket calendar he was there. The Cup Final, the Club Dinner, The Union Dinner, the Umpires Dinner, Ireland fixtures, the Lords Taverner's Christmas Lunch and he made a point of being there for me on the night I became NCU Chairman. As the years went by it became more and more difficult for him to get out and about but that only seemed to make him more determined. Probably only his family know what effort it took for Jim to attend these events.
Even in his final illness these last few weeks he was still fighting - still full of courage – and never, ever did anyone hear him bemoan his lot. He accepted the hand he had been dealt and got on with it."
After his death the McMorran family instigated the Annual Award for Voluntary Service to cricket, a fitting tribute to the memory of a fine Administrator and popular man.
On a personal note, I greatly valued his friendship and wise counsel. He was always supportive, but never patronizing. If he disagreed, he said it up front. There were no back doors, and I loved him for that. It strengthened our friendship.
Rest in Peace big man. Big in stature with a heart of gold.
"Gone, but not forgotten…Jim McMorran"
JCH