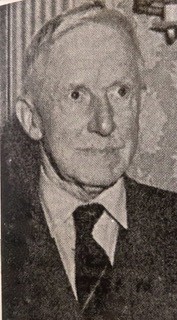 a reflection on the contribution of former stalwarts who gave to Ulster cricket…
JC 'Jimmy' Picken had a remarkable life. A bachelor, he was very popular with everyone, noted for his generosity, and had a great sense of humour. He reached the grand old age of 89, but his life was not short of tragedy. His younger brother Sam drowned at Castlerock aged only 45, his older brother Andrew died at 55 after prolonged illness, and his father died aged 53.
Jimmy was born in 1888. The son of a GP at Drumanaway, near Randalstown, Co. Antrim, and mother from Donemana, it seemed the maternal genes directed him towards cricket, which he was to serve with great distinction. Unfortunately, Dr. James Picken died in 1902, and Mrs. Annie Picken moved her three sons to Antrim Road, Belfast. All three were enrolled at Belfast Royal Academy and they excelled academically and also performed well at cricket. The family never forgot the legacy, as Annie, Andrew and Jimmy all, in due course became members of the Board of Governors and later chaired it. Of course, Jimmy served the school much wider as Hon. Secretary to the Old Boys Association later to become President in 1949-50, and also President of the Former Pupils Rugby Club.
Andrew distinguished himself in Classics and gained a 1st Class Honours Degree at Queens University. Sam followed in his father's footsteps studying medicine and also graduated from Queen's. Ironically, Jimmy opted to go into commerce despite a university place being available, and his career in textiles. He often joked when asked about his occupation, "I travel on ladies' underwear!" This was to be a regular quip as Jimmy was a popular and successful salesman. His humour was not lost to journalism either, as he ran a series of articles in the Ireland Saturday Night for several years under the pseudonym of "Arbiter." Jimmy never forgot when he was awarded a medal for shorthand at BRA. It also stood him well when acting as Secretary over many years.
Jimmy travelled widely in Ireland, and as a travelling salesman he enjoyed the flexibility to do other activities. In his case, mainly cricket, hockey and rugby. All three brothers joined Cliftonville Cricket Club in the early 1900s. The club had four teams, Cliftonville, Enfield, Dunown and Zingari. All three played mostly in the lower teams although Andrew appeared in the 1922 Senior Cup final losing to North Down, and both Andrew and Sam were Junior Cup winners with Enfield. Jimmy as a regular for Dunowen, was occasionally asked to play for the Firsts.
A story that has become folklore about Jimmy relates to when he was asked to play for the 1sts against Waringstown as the team was short. Jimmy had no illusions about his batting, but as fate would have it, he duly approached the wicket as 11th man with 7 needed to win.
H E Wood, the veteran skipper, met him and told him in no uncertain terms not to attack, but stonewall and that he would get the runs from the next over.
Jimmy was out of his depth, and after 4 swishes he couldn't hit a ball. Jimmy may have told the story that he was better than that, but after another swish he fortuitously skied one over the slips to the boundary. With one ball left to defend Jimmy decided to attack again and he struck a lovely cover drive to win the game! Nine of the team members rushed to applaud him, but after the celebrations he was scolded by the skipper for disobeying his instructions!
I'm sure Jimmy told that story many times thereafter!
Jimmy mostly bowled for Dunowen, but his strength was as an Administrator. He started playing in 1906, but retired in the early 1920s. In 1916 he joined the club committee as Match Secretary and then moved to Hon. Secretary in 1921. He completed 28 years' service, and was elected President in 1949.
At 30 Jimmy was in the prime of his life and was to extend his service to Irish cricket for over 70 years. It was an incredible feat. He was first elected to the NCU Junior Committee in 1919, and shortly became one of two Representatives to the powerful Senior Committee. He replaced AD May, who had rejoined the army, as Hon. Secretary in 1940, and remained in post for another 22 years. His service was rewarded with the Presidency in 1962- 63, and an Honorary Life Membership in 1964.
Previously, he had been elected President of the Irish Cricket Union in 1950, and was awarded an MBE by the Queen in the 1958 New Year Honours List. He was the first local person to be honoured for cricket services.
On 22 June 1922 he was the Manager of the NCU Interprovincial team, and there was an interesting account from the Newsletter of what had happened on the return to Belfast on the Dublin train. "Irregulars" in the Dundalk Station searched several of the team and some were frightened by the experience, especially as the party included Captain Nelson Russell in civilian clothes. Fortunately, they were able to return back to Belfast. "Irregulars" were the anti-Treaty faction of the Irish Republican Army (IRA) and Ireland was in turmoil at the time when the Irish Free State was established.
Jimmy also played a role in the Independent Mid-Week League, and not surprisingly, he was elected President in 1939. The war loomed and he also served as a Corporal in the Local Defence Volunteers.
In the Northern Cricket Union Centenary Brochure 1986 a glowing tribute was given to Jimmy about the Presidents and Chairmen of the Union…
"JC Picken joined Cliftonville in 1906 and served his club and Union with distinction throughout his life. Although not a distinguished player in terms of ability, Jimmy personified the enthusiastic playing member committed to his regular role for a club and always willing to step into the breach when required by the Senior teams. Off the field of play he had few peers as an
Administrator and had the position of Club Secretary from 1920 to 1949 until his elevation to President. Although his commitment to his Club was heavy, he served the Northern Cricket Union with similar devotion, serving as Hon. Secretary from 1940 to 1961 until he was elected as President of the Union for the years 1962 to 1963."
Jimmy was the Doyen of Presidency. In addition to the Irish Cricket Union and Northern Cricket Union, he was President of Cliftonville Cricket Club, Cliftonville Cricket and Hockey Club, BRA Old Boys' Association 1949-50, Former Pupils' Rugby Club, and the Independent Mid-week league 1939.
He died in 1977 at the grand old age of 89. His life was indeed a splendid innings.
'GONE, BUT NOT FORGOTTEN…JC 'Jimmy" PICKEN
FOOTNOTE…
I am indebted to Dr. Murray Power, a relative of his family, for sharing so many insights into the life of Jimmy Picken.
JCH