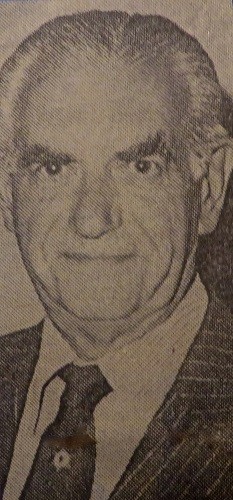 GONE, BUT NOT FORGOTTEN…a reflection on the contribution of former stalwarts who gave to Ulster cricket… first we look back to FERGUSON GRAINGER
The sudden death of Ferguson Grainger came as a shock to his family, sporting friends, Northern Cricket Union, and his beloved cricket club Muckamore. He had been appointed President of the NCU a few months previously at the 1984 Annual General Meeting in October, and was eagerly anticipating cricket's highest office.
He was 73.
Ferguson 'Fergie' Grainger was one in a million, a man highly respected for his integrity, charisma, influence, entrepreneurism, and achievement. Little wonder he was to be the driving force for the NCU Centenary Committee plans in 1986. He was a charming man with exceptional business acumen, and his death cast a shadow over the NCU Celebrations.
The NCU was fortunate to cajole Lisburn's Cecil Walker of similar ilk to step up at the eleventh hour, despite the club's Sesquicentennial Celebration, also in 1986.
Fergie was born in Holywood in 1912 and educated at Sullivan Upper School within the town. He distinguished himself in sport and captained both rugby and cricket. The 1930s were difficult times with recession and war pending. He pursued his career at the York Street Flax Spinning Co. and found a strong relationship with the Entwistle family who provided generous patronage, leadership and support to the Muckamore club.
The Flax Factory was established close to the ground, and in 1941 Fergie became entwined with both the company and the club. He was a born leader and while he graduated to become Joint Managing Director of the York Street Flax Spinning Co., he added a close and lifelong relationship with Muckamore Cricket and Lawn Tennis Club. With such an asset Fergie was elected onto the Committee and his leadership was immediately harnessed. He became Chairman from 1947-1952 and was a busy man expanding the facilities for both cricket and tennis. Later in 1976 he came President at Muckamore.
His driving force was apparent from the outset, and his diplomacy smoothed the transition period of combining the cricket and tennis interests as both wanted to play on Saturdays and the ground couldn't accommodate both without compromise and the vision to develop beautiful Moylena.
In 1948 Fergie 's Committee built the new tennis hard courts with generous patronage from the Company, and his wife Joy became Captain of the tennis section. At the time tennis was much to the fore, and in 1950 the Committee added a Pavilion. The Committee never neglected the cricket, and Fergie was delighted to add cricket success as Muckamore were joint winners of the NCU Junior Cup the same year.
Although he never played cricket at Muckamore, he took a great interest in supporting and developing young sportspeople. He got a lot of pleasure supporting the young talent at Moylena and was rewarded with victory in the prestigious Graham Cup in 1983.
Former NCU Chairman and Muckamore all-rounder Andy Clement recalls;
"Fergie was just a great person, who loved nothing more than organising events and being in the middle of them. I'm not sure how he got so many people to Muckamore, but he regularly did, especially for his infamous President's Day. He also organised tours to Yorkshire and Lancashire, and some of the stories about his trips to play against British Airways teams in London are still being told, and I'm sure I would have loved those trips. "
President's Day at Muckamore involved both cricket and tennis, and was really a Gala Day with the Ladies adorning lovely hats and dresses. The cricket teams were packed with good players and a few celebs to add the glamour. As always, Fergie was the epitome of generous hospitality with everyone. Of course, everyone was aware of what was involved, as Fergie received plenty of cheques to boost the Muckamore coffers.
Fergie played tennis at Moylena, and added Archery to the list of sports. Not surprising, he was so well received by the Northern Ireland Archery Association that he became President for two years.
But the saddest part of Ferguson Grainger was that he was thwarted at the pinnacle of his prowess when he had so much to complete in office. He had meticulously planned his NCU Presidency with a plethora of prestigious events, including a Centenary Banquet at the Belfast City Hall. He set up Test-Match Commentator Brian Johnston to be the Guest Speaker, but sadly it happened without him.
Fergie was the first Muckamore member to reach the high office and Captain Ivor McMeekinat the time summed up in his tribute;
"We are stunned at his passing and his absence will leave a huge void at the club. He was very supportive to club officials and on a personal level he had many friends. His death has created a great sense of emptiness and it will be difficult to replace."
No truer words were ever said.
Gone, but not forgotten…Ferguson 'Fergie' Grainger.
JCH