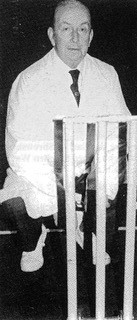 a reflection on the contribution of former stalwarts who gave to Ulster cricket......
Born in Wales, Douglas 'Dai' Jones was one of the most popular cricket Umpires, and a great ambassador for the game throughout Ireland. Sadly, he died in 1990 at the age of 72 after a long illness.
He was always known as Dai, and brought his drawl Welsh accent to Ulster cricket and never lost his brogue. He was a charming man who won many friends throughout his life in teaching and sport. He married his sweetheart in Ballynahinch, County Down and settled in the town in 1946 after they married.
In his day his passion was hockey, rugby and cricket, but in truth, he loved all sports. He was a wicket-keeper and joined Ballynahinch Cricket Club, playing at the hockey pitch and later Mill Bridge where they made their ground. From all accounts he was a useful batsman, and spent a year at Glamorgan CC. He also played in the Derbyshire League for Heanor CC with a personal best 159 and 7 catches behind the stumps.
Dai often criticised the pitches in Ulster grounds because they were so slow. He always said he stood up to the stumps because the bowlers were never that fast. He played at many clubs throughout the Union, but when he moved to Belfast his love of cricket took a different direction…he became an umpire!
Billy Finlay was responsible, one of the best Umpires in the NCU, he cajoled him to join the ranks. As we often say, 'the rest is history.'
The Cricket Umpires Association had been founded in 1949, prior to when Dai joined, but he quickly rose in the ranks. He travelled widely in the NCU, and took a deep interest in the standard of grounds. He was later appointed NCU Convener of the Grounds Inspection Committee, in addition to the Umpires Appointments Secretary.
He was in the best place to judge the quality of a pitch, or as he always said, the 'table.' Dai was a huge asset to Irish cricket, and spent a lifetime devoted to improving the standard of cricket umpires and the grounds. You could almost forget that his 'real' career was teaching, as the much-loved Vice-Principal at Mersey Street Primary School. The pupils adored him, and he settled well in South Belfast with regular walks at nearby Cherryvale Park.
A forthright, no-nonsense man, he loved the fellowship of cricketers, and as a result was highly respected with all players. He was an Icon in the umpiring fraternity, much like the status that Joe Vaughan held with everyone.
Dai officiated at the highest level. He stood in 9 International matches for Ireland, and ironically, all 9 games were at Ormeau! One of the biggest disappointments was the dearth of matches at the highest level. The "Troubles" marked a difficult period in Irish cricket as teams were reluctant to travel north and Ireland fixtures were scheduled in Dublin in the early 1970s. Dai was a victim, as he should have stood in more internationals spanning 22 years from 1959 to 1981. Nevertheless, he mixed with the best, and amongst the teams he officiated were Australia, West Indies, MCC, Canada and the counties Yorkshire, Leicester and Middlesex.
He also officiated at three NCU Senior Challenge Cup finals at both Ormeau and Downpatrick.
Dai chaired the Cricket Umpires Association (NICUA-later NIACUS) from 1987-89. He was also Hon. Sec in 1967. He also played a major part in the cross-border exchange with Leinster in tandem with Liam Keegan, the Dublin Guru at the time. It was a historic milestone when Dai was joined by Harry Chamberlain, Fred McMurray, and George Archer in June 1981 with initially 'private exchanges,' that later become 'official.' The exchanges were as much social as cricket, as stories abound of late-night revelry when matches were over.
There were also milestones when Dai stood with Leinster's Sean Moore to officiate the North Leinster v Munster Interprovincial, and later in 1982 when he stood with Joe Vaughan as the first two NCU Umpires to officiate the Railway Union v Malahide senior league match. In due course, the cross-border exchange has worked happily since then. The North-West Umpires were added in 1988.
During the cross-border socialising in 1981 it was mooted that a Leinster v NCU Umpires match would be an interesting challenge match to build the camaraderie, but not much happened in the ensuing years until Leinster Chairman Liam Keegan issued a challenge to Chairman Dai in 1988 and it was accepted. It was the birth of the White Stick Trophy that continues to this day. The fellowship and camaraderie was continued when Paddy O'Hara succeeded Dai, whose health was ailing.
Dai's work as Grounds Inspector was Trojan. He visited virtually every NCU ground both big and small during his time on the Inspection Committee. Of course, he had his favourites. He spoke glowingly about Lisburn's Wallace Park, after the first time he saw it in 1940. He often laughed at the tin-roof pavilion, wooden fence, with bowling green alongside, and sharing members with the Crosskey Silver Band, which performed every Saturday. But he loved the ambiance of Wallace Park, reminiscent of Welsh cricket grounds around Cardiff, with towering trees and trains flanking the ground.
Dai also loved The Lawn at Waringstown, with its beautiful natural amphitheatre, and cattle grazing around. He loved most grounds, and was always available to advise ground staff while umpiring, and on Inspection Reports. During his time he worked closely with Harry Brind, the Head Groundsman at Surrey, who was credited with bringing the Oval back to life after he replaced the Square. Dai and Harry met annually at several grounds and advised Surrey loam soil would produce faster pitches. Dai rated Ormeau and Downpatrick as the best in the NCU region for quality grounds and facilities.
Dai was awarded an Honorary Member of the NCU in 1985 after his distinguished service as Umpires Appointments Secretary for 16 years, and his work on the Grounds Inspection Committee. When he died the Union decided to honour his memory by presenting the best wicket-keeper each season at the Annual Dinner with the Dai Jones Trophy.
And they had every reason to remember him, as he was a tireless administrator. Ireland cricket lost a great man when he died.
"Gone, but not forgotten…Dai Jones."
JCH