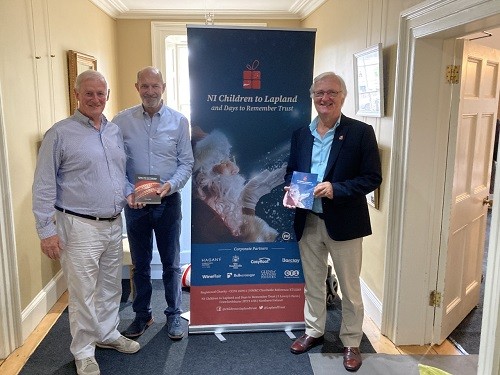 The latest book to be written by Clarence Hiles was launched this morning in his home town of Comber at the Georgian House Restaurant, formerly owned by TJ Andrews, a stalwart of North Down CC.
Gone, but not forgotten is a tribute to the people who made Ulster cricket and is dedicated to four of Clarence's greatest friends - Alfie Linehan, Cecil Walker, Roy Torrens and Jim Simpson with whom he shared so much.
The book was something that Clarence had always wanted to write so that some fine people who had made Ulster cricket renowned could be remembered in their own right. Some of the individuals were famous in other fields of life but most of them have never got the recognition of how important they were in Ulster cricket. The choice of individuals is broad and diverse and is a selection of men and one woman who strove over almost two centuries to advance the local game.
The book embraces former Presidents, Chairmen, Secretaries, Umpires, a Scorer and a remarkable woman. I will leave for you to read and find out for yourself who all these great people are.
The cost is £10 plus p & p
The book will also be on sale at the NCU Gallaghers Challenge Cup Final on Friday from the SM Cricket marquee.
All proceeds from the book will go to that very worthy charity the Northern Ireland Children to Lapland and Days to Remember Trust.
Clarence is pictured with Colin Barclay, NI Children to Lapland and Guy Fetherston, friend and donor