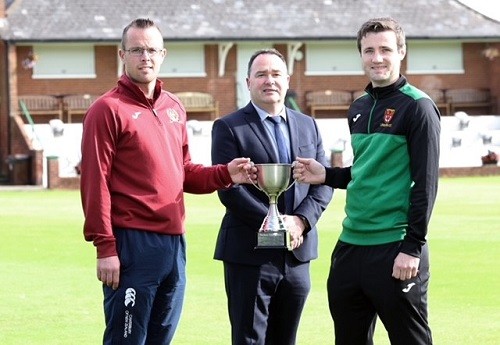 The battle between the in form batsmen of Laurelvale and the wicket taking depth of Lisburn Seconds' bowling will be a key factor of Saturday's GMcG Junior Cup.

Lisburn Seconds will have the home advantage of Wallace Park (11am) but it will mean little if Laurelvale captain David Sinton and the hard hitting Adnan Malik continue their cup form which has seen them each reach scores in the 80s and 90s. And in addition, Malik has hit two league centuries, one of them a towering 196 not out.

However, Lisburn's march to the final has been led by their bowlers., particularly Callum Atkinson, Richard Simpson, Richard Booth and Eddie Kyle. Their combined efforts ensured comfortable wins over North Down Seconds (8 wickets) and Senior League sides Drumaness Superkings (50 runs) and Cooke Collegians (6 wickets).
In the early rounds Laurelvale had easy passages over CSNI Seconds (6 wickets) and Ards (172 runs) but the semi-final against neighbours Lurgan was a narrow three run affair.
The cup is open to teams in Sections 2 and 3 of the Senior League and the top tier of the Junior League which comprises 2nd X1 teams of leading senior clubs.
Both finalists have named squads of 13.

Lisburn Seconds:
Gavin McGill (capt), Stuart Lightbody, Richard Booth, Richard Simpson, Michael Turkington, Glenn Halliday, Richard McConkey, Cameron Doak, Callum Atkinson, Neil Kilpatrick, Scott Wilson, Eddie Kyle, Joel Wiseman.

Laurelvale:
David Sinton (capt), Michael Burns, Philip Weir, Daryl Henry, Craig Irwin, Babar Khan, Adnan Malik, Jack Burns, Mark Thornbury, Adam Speers, John Speers, Mohammad Ajmal, Kurshid Subhani