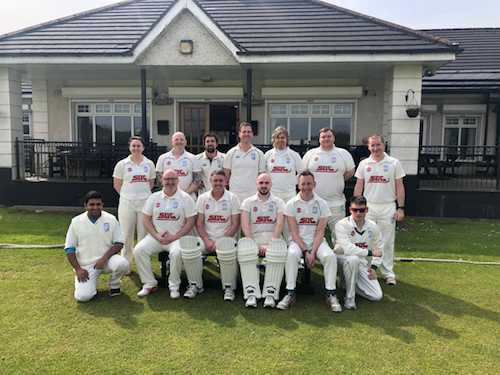 Cricket probably isn't the first thing that springs to mind when you think of Maghera. Sitting at the foot of the Sperrin's, the town is more synonymous with rain, than sun kissed afternoons you'd normally associate with the game. But despite this, an ambitious set of local cricket lovers have set out to raise the profile of the game, and the early signs are promising for the emerging, Maghera Cricket Club.
The Club has gained promotion in each of the last two seasons it has played and it now looks forward to the 2019 season playing in Qualifying League Division 2 of the North West Cricket Union. These are heady heights indeed for the small club from Maghera but its ambitions don't stop there, as it will shortly start competition in the North West Cricket Union's Mid-Week League.
Formally set up in 2013, the club first played competitive cricket in Division 4 of the North West Qualifying League and as Mark Semple, the then Captain of the club would testify, it was often a struggle to put out a full XI every weekend. A lot of time would be spent contacting friends of friends having been told of their interest in the game. Mike Brearley's 'The Art of Captaincy' brilliantly described the challenges he faced on the cricket field when leading England to Ashes glory in 1981 but he never had to play with nine men, some of whom must have verged on the un-selectable.
More often than not, these leads would draw a blank but, on the odd occasion, a day or two before a game, he would strike lucky and a new, slightly rusty, spin bowler would be drafted into the team, having last bowled in 1994. His first over of six wides would quickly shatter the rather ambitious likeness he had made between himself and Shane Warne. But boyhood dreams can live on.
From these humble beginnings, the core of a team emerged, once one-sided matches became competitive, morale began to grow and eventually a match was won! In Maghera's case, this was against New Buildings 2nd XI in a mid-week game during the 2014 season. Two seasons later and the club had lost only one match and collected awards for best batsmen and bowler at the annual North West Union awards evening.
Winning is brilliant for the morale of individuals and a team and now, ably lead by Alfie Stewart, it has become more familiar, if not routine. Memories of the dropped catch at mid-on in the second over fade into insignificance and players are compelled to offer themselves for selection the next week. More importantly, the jungle drums beat louder and the brother of a mother whose son played in that, now imortalised game, decides to lift a bat again, to give it just one more go.
Now, the Club has 35 playing members of varying vintages, comprising both men and women as well as a strong overseas contingent. At the last count, this included a South African, a Pakistani, a pair of Australians, an Indian and a trio of Englishmen. Retaining players is still an issue but to a lesser extent. Now the priority is ensuring everyone has an opportunity to play competitive cricket.
These members complement a group of home-grown players, the majority of whom were introduced to the game by an enthusiastic father who was motivated to pass on their love for the game to the next generation. In a couple of cases two generations of the same family still playing, spurred on by friendly family rivalry, although it tends to be the younger generation that now gets the upper hand.
Despite its success and relatively stable membership base, the club isn't taking anything for granted as standing still is not an option. A Five-Year Plan has been developed by the clubs committee, laying down the foundations for a successful future, not just on the field but also off it in terms of supporting the local community become more active and address issues, for example, relating to mental health and wellbeing.
Creating sustainable pathways into the club for young players (of all abilities) is also an important goal. Rugby and Gaelic football traditionally dominate the sporting lives of many young people in the area and the club is eager to demonstrate how cricket can complement these sports by helping to develop a range of transferable skills, help main levels of fitness across the summer months and provide all the social benefits you'd normally expect from such an active club.
Maghera Cricket Club has played all its home matches at the Rainey Endowed School, Magherafelt since 2013. Its partnership with the school has been vital to its success to date and is an important factor in the club's future plans. Led by Head Teacher Mark McCullough, the school has a proud academic and sporting tradition, a tradition the club is hoping to help strengthen by growing opportunities to play cricket, not just for those studying there but for the whole community. Grants from Mid-Ulster District Council and ongoing support from the North West Cricket Union has enabled the club invest in equipment, develop its coaching capacity and deliver grass-root training for local children in the form of summer camps.
Maghera Cricket Club has certainly achieved a lot in a relatively short space of time thanks to the enthusiasm of its members and support of the local and cricketing communities. Long term success depends on getting more local young people playing the game; quite a challenge, but one the club is more than willing to take on.
If you would like to find out more about Maghera Cricket Club, please contact the clubs Secretary, Roger Talbot at magheracricket@yahoo.com