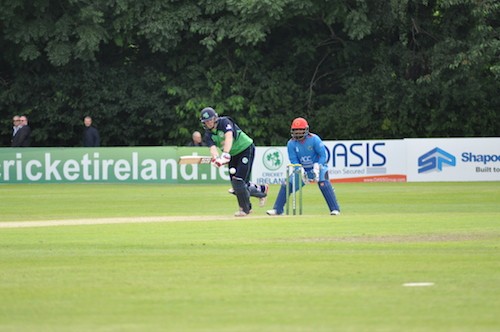 The Ireland series was probably right at 2-2 with a match abandoned.
However, Ireland might rue the astonishing fielding by former captain Mohammed Nabi to earn 2-1, because it was at the cost of Ed Joyce. But he was a long way short of a winning result.
However, he was deprived of the opportunity, and this was enough for the Irish following.
Nabi was guilty of blatantly cheating and perhaps it set the tone for the final match at Stormont on Tuesday. Give and take a couple of body checks, Joyce took the match with his batting and scored a magnificent 160 not out.
OK, it was tighter than perhaps it should have been, but Joyce has every reason to feel vindicated.
Ireland and the public will probably be glad to see the back of the Afghans, but the supporters were lively and enthusiastic. It was a pity there was an absence of sportsmanship in both the spectators and players.
They behaved poorly.
Ireland will welcome a return to form by Gary Wilson, but the performance was dominated by Ed Joyce. The Man of the Series was fully justified with an amazing 339 runs at an average of 169.50.

IRELAND V AFGHANISTAN 5TH ODI
at Stormont.

Ireland 265/5 (E Joyce 160*, G Wilson 58, D Zadran 2-49)
Afghanistan 253/5 (Najibullah 54, Rashid Khan 40, Ashgar Stanikzai 32,
Dawlat Zadran 31*, Rahmat Shah 30, Mohammed Nabi 25, K O'Brien 3-59, B
McCarthy 2-21, P Chase 2-39)

Ireland beat Afghanistan by 12 runs.