So what about the Website Team of the Year drawn from the northern contributors to our local cricket websites?
What about this team?


PAUL STAFFORD (C)
Bowls bouncers with every delivery and as a batsman tries to hit every ball for six.
IVAN McCOMBE
Solid, dependable, steady batsman and apologetic bowler. Mr. Nice Guy on the team who is a big favourite with the opposition and with the umpires.
LAURENCE MOORE
Team comedian best at running short singles and stirring it a bit with the opposition.
WAYNE HORWOOD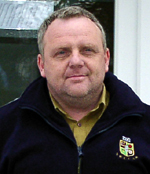 Hard-hitting no nonsense batsman who quickly weighs up the situation and then delivers the goods.
BRIAN DOUGHERTY
Voice of reason and team strategist who reacts quickly to loose deliveries and usually hits them to the boundary.
ANDY KENNEDY
Old stager in the team who has more answers than questions. Limited range of shots and plays well within his limitations.
NEIL HUNTER
Well 'grounded' in the game but can't get the ball off the square when batting.
VANBURN
Just discovered the game and has solutions to every problem. Very selective shot maker and has favourite grounds.
RYAN HAIRE
Moody blue who is a great shot maker on his good days but a fiery opponent when riled. Often anti-establishment.
DAVID EDWARDS
Very defensive player who is normally attacked by the opposition but plays with a big broad bat. Teams complain but he still produces the goods.
ROGER BELL
Doesn't play very often and only on the grounds that he likes and knows well. Serious player.

RESERVES
DAVID COOKE, DAVID COOKE AND DAVID COOKE
Nothing to separate these guys
PADDY O'HARA
Pugnacious striker who knows the laws back to front and loves to express himself on the technical side of the game.