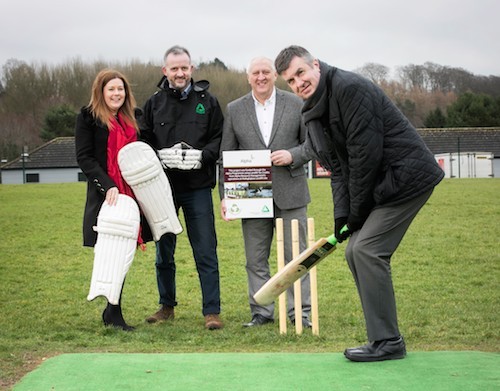 Dunmurry Sports Association Cricket Club at Fullerton Park was recently successful within the Alpha Programme Small Grants Scheme, which offers up to £10k support for projects. Fullerton Park is the home venue for both Dunmurry Cricket Club and Cooke Collegians Cricket Club.
Now in its 10th year, the popular Alpha Programme distributes funding through the Landfill Communities Fund scheme to a range of community led and biodiversity projects within a 15-mile radius of the landfill site at Mullaghglass on the outskirts of Lisburn. Alpha Resource Management developed the programme in 2008; it is a waste management and green energy company within the Lagan Group.
The £7,544 support through the Alpha Programme will enhance cricketing facilities at Fullerton Park through providing a fenced storage area along with sight screens, practice nets and a wicket cover.
The Alpha Programme is managed by Groundwork NI and funding is allocated on a quarterly basis.
Richard Rogers who oversees the Alpha Programme commented; "This funding will help establish cricket at Fullerton Park, and enable Dunmurry Cricket Club and Cooke Collegians to increase their player numbers. We are delighted to support the Clubs and Belfast City Council in doing this."
Applications for the next round of Alpha Programme funding close on Friday 20th April 2018.
Anyone considering applying to the Programme is encouraged to contact Groundwork NI at alphaprogramme@groundworkni.co.uk to discuss their application prior to submission.