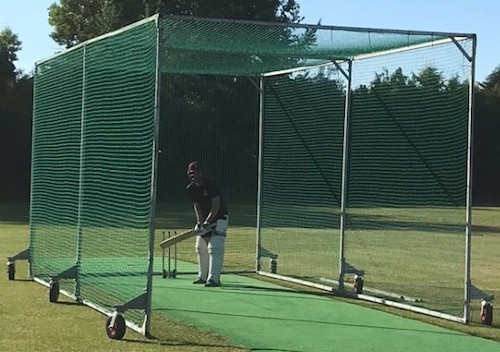 Dunmurry Cricket Club were successful recently in acquiring a grant through the Alpha Programme Small Grants Scheme to enhance the cricketing facilities at Fullerton Park, a ground they share with Cooke Collegians CC.
The grant enabled them to purchase sight screens, a mobile cage and a flat sheet to cover the wicket – all through Cartwrights Sports Ltd. who won the tendering process.
Gavin Irwin, Dunmurry CC, takes up the story: "After receiving approval for our bid for Alpha funding earlier this year we set about contacting various suppliers of cricket equipment to tender for two sight screens, a batting cage and a flat sheet to protect the pitch. Cartwrights Sports provided a quote which offered the best value for money and the equipment was ready for shipping within a couple of weeks.
"Once we received the goods it was all hands-on deck to build the sight screens and batting cage. This was not as daunting as we first thought with all pieces clearly marked and fairly intuitive instructions effectively making it a huge "Mechano" set to build (some of us enjoyed re-living our youth!). After a few man hours of work, we are absolutely delighted with the new equipment which have improved our playing and practice facilities greatly.
"Our gratitude goes to the Alpha Fund Team at Groundwork NI and Belfast City Council for funding; Cartwrights Sports for supplying the top-quality products and our friends at Cooke Collegians who assisted throughout."
John Kerstens, Cartwrights Sports agent said his Company were delighted to have been able to provide the equipment which enhances the playing and practice facilities at Fullerton Park.
For further information on the products available from Cartwrights Sports John can be contacted on 07812203281 or john@cartwrights-sports.co.uk.