Yes, there will be a competitive edge with prize money and trophies at stake, but it is the party element that the organizers want to promote at the end of a busy season.
The event will be staged at Trinity College, one of the Iconic cricket settings in Ireland, and it has attracted teams from Ireland, UK and Europe. It won't be short of celebs either with the dynamic Ireland all-rounder Kevin O'Brien in the fray and Holland captain Peter Borren amongst the competitors. The action will be spread over Saturday and Sunday and promises to be highly entertaining.
Admission is free and for more details look up www.dublinsixes.ie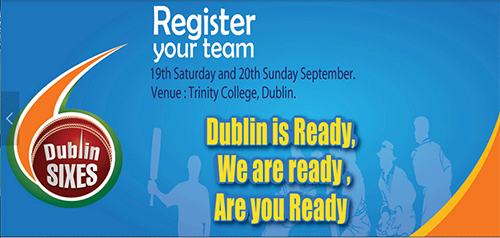 The event brings back memories of the two big Sixes tournaments that were held in the NCU area in the Seventies and early Eighties. At its peak the Ballymena Sixes was a week of fun cricket culminating in the Friday Finals Night. Sponsored by Sun Alliance with the inimitable Jimmy Boyce at the helm, many of the best players in the Province competed including teams from the North-West.
The other big Sixes tournament was the RUC Sixes held at Newforge with a similar format, but perhaps a bigger party night on the Friday! At the time the RUC had a fine cricket team and their Sixes team was amongst the best around with John Craig, Bobby Cooke, Gerry Thompson et al. The top three Sixes teams at the time were the RUC, Ballymena and North Down, and while the novelty element in this shortened version of the game did not some of the traditionalists, it was highly entertaining, competitive and popular.
At club level some clubs held their own Sixes tournaments, but most petered out over the years with one exception. The North Down Sixes started in 1974 and after 41 years their annual tournament continues to be one of the best social and sporting events at The Green every season. It's a fun event with bragging rights much more important that big prizes, although in their heyday in the Seventies Harp Lager was a generous sponsor both in product and prizes.
The Dublin Sixes hope to capture a similar atmosphere this weekend so if you want to enjoy the action and have a great time head down to College Park and have an end-of-season fun day or weekend. Take your mates, take the family, take the wife and take the time to enjoy the special ambience of cricket in a bustling city centre location………..weather permitting!