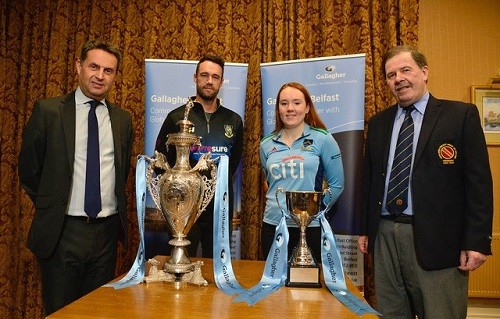 CIYMS will begin their defence of the NCU men's Gallagher Challenge Cup away to the newly promoted Premiership side Cliftonville Academy.
The cup brings together clubs from the Premiership and the top Senior League and tonight's (Wednesday) draw produced two other all Premiership ties. Last year's runners up North Down will travel to Instonians in what promises to be the top match, and Woodvale will host Carrickfergus.
The draw for the first round involved eight of the 10 Senior League clubs:
A: Lurgan v Dundrum
B: Saintfield v Muckamore
C: Ballymena v Templepatrick
D: Donacloney Mill v Bangor
The two remaining Senior League clubs Armagh and Derriaghy and first round winners joined the 10 Premiership sides in the draw for the second round:
Woodvale v Carrickfergus
Lisburn v Winners of D
Cliftonville Academy v CIYMS
CSNI v Winners of C
Winners of A v Derriaghy
Instonians v North Down
Cregagh v Winners of B
Waringstown v Armagh
No dates have yet been fixed for either round.
The women's Gallagher Challenge Cup is to take on a round robin format to determine the finalists with the six competing clubs divided into two groups. Holders CSNI have been drawn with Lurgan and Waringstown with the other group comprising North Down, Muckamore and Carrickfergus.
Pictured are holders of the NCU's two Gallagher Senior Challenge Cups, Nigel Jones of CIYMS, and Rachel Thomas of Civil Service North, after the draws for this summer's competitions. Also pictured are Gallagher's Northern Ireland managing director Shane Matthews and NCU president Roger Bell. From left: Shane Matthews of Gallagher, Nigel Jones of CIYMS, Rachel Thomas of Civil Service North and Roger Bell of the NCU.

Picture By: Arthur Allison/Pacemaker Press.