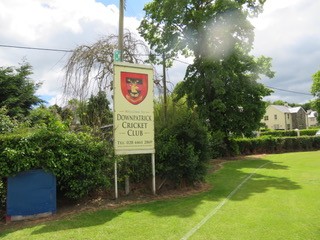 What happened to Downpatrick Cricket Club? Covid happened, but that was only one of the problems. The club had taken their eye of development, we didn't have a squad of young players available to call on when the game was restarted after the pandemic.
DCC could only call on some of the players we had in the past who by this time had other interests, family commitments, others had moved to other clubs and a few just didn't want to commit to playing 100 overs cricket on Saturday.
The NCU kindly agreed to letting DCC play in the T20 tournament, we also played a few friendly matches at The Meadow, Strangford Road.
At the end of the 2021 season, it was thought that cricket was over at Downpatrick Cricket Club. All those wonderful memories we have of international cricket games with Ireland and most of the top test cricket sides in the world, not to mention the two-day NCU cup finals would just be a memory.
In January 2022 the grass at the Meadow was nearly a foot long and the place didn't look its best, to say the least. I remember getting a phone call from the real boss at DCC, Correna Coburn, asking if we could do something to try and get the club up and playing again, I agreed, as long as she would take up the club secretary role, thank goodness Correna agreed, one of the best decisions. Paul Tate although retired from playing, because of an injury agreed to be our development officer and NCU liaison. Chris Gilmore also agreed to do what he could but he also had to stop playing due to injury.
Chris has been very supportive, even while looking after his very ill son Luke, we are all thinking of the Gilmore family at this time. Jeremy McCready agreed to take over the ground convener role, I have to thank Jeremy for all the work he has done for the good of the club, a lot more than just looking after the ground. Correna once said" if everyone does a wee bit then the job isn't so big" so we started.
Early in the year we held an emergency general meeting where the club was formed 175 years ago, Denver's Hotel. Not many turned up but there was a young man and four of his mates who said they would play. Charlie Hutton agreed to be the club skipper and we made an approach to the NCU who let us play in Senior 2.
With a very small committee, we organised a successful awards dinner which was well attended, that also gave us a bit more momentum to the rebuilding of the club.
After hearing that Jeff Maguire had parted company with Dundrum Cricket Club, we had no hesitation in paying him a visit and asked him if he could help us rebuild the club. We needed to get back into the local schools and Jeff was our man. Thank goodness Jeff agreed and he is our Youth Development officer, to date we are working with 9 pre secondary schools and 2 post primary schools. We brought an overseas player who has his coaching certificate, Esitaan Schonfeld, and he also assisted Jeff with the coaching in the schools.
So, at the start of this year, we had no cricket at The Meadow, but our aim was to see if we could fulfil the NCU senior 2 fixtures. I am delighted to say we have done that, while some of our results were not what we would have wanted, we are playing cricket. We have a good number of juniors now regularly coming to the club on Monday night, more would be great, we also have a number of women now playing on Wednesday night, again more would be welcome.
We will have a 2nd X1 next year and maybe even a 3rd X1, an under 11 side and a ladies X1.
We asked Willie Radcliff to join us to look after our square, which was another good idea, as many who are reading this will know "the bit in the middle" is not to be mucked about with.
So, while we may not at this time, be watching some of the great teams play at our beloved Meadow, Strangford Road, we are playing cricket and we welcome any team who comes to play. We have been left a great legacy covering nearly 175 years which we very nearly lost. I remember in the past saying "you never miss the water until the well runs dry" that was just after the fire that destroyed the clubhouse. While that was indeed a terrible time, we came through it, we were able to rebuild. Once again, it was the members of our Club and some volunteers, who worked hard to keep the Club working.
So, we must again rebuild, but this time we must build, not bricks, but a club. We have a commitment from players, we fielded a team in the NCU Senior League Section 2. We also played in the Junior Cup competition and in the mid-week league.
It is no secret that we faced several challenges last year; 2021 was the first year in the Club's history where we only fielded one team. Again, thanks must go to all those who worked so hard to keep the game we all love, alive in Downpatrick.
But let's be in no doubt about the task ahead, it won't be a job for a committee or chairman or secretary. If everyone could do a little then it won't be such a hard job, it's up to all of us.
With support, we aim to ensure that cricket will continue to be played in Downpatrick. Without support, then the game we all love could have been lost for future generations. Those great club members and players that went before us, believed they were building for the future, and we weren't going to be the generation that let the game slip through our hands, like the catches that some of us can remember dropping?
I thank all those members of the club who have worked so hard past and present, to enhance the good name of Downpatrick Cricket Club right across the world. It is now our responsibility to keep building the club and hopefully ensure that Downpatrick Cricket Club once again return to the top tier of cricket in the Northern Cricket Union, in the not too distant future.
In Charlie Hutton as the club captain, the future of this famous club is now in the hands of the next generation, I am sure that Downpatrick Cricket Club has a good future to look forward to.