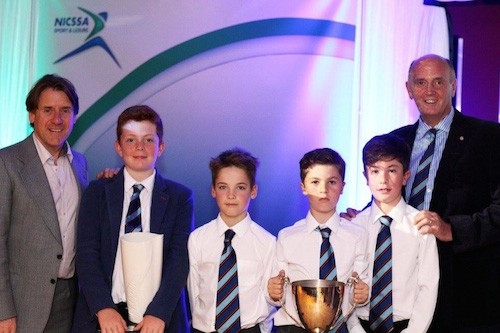 Civil Service North of Ireland Cricket Club (CSNICC) were double winners at the recent Northern Ireland Civil Service Sports Association (NICSSSA) Awards.

Ivan McMinn, Club Chairman, won the Sir Kenneth Bloomfield Club Person of the Year trophy and the Club's Under 11 team, picked up the Team of the Year, after they won the All Ireland Under 11 competition earlier this year.

Speaking of his success, Ivan said: "I am honoured to have won this prestigious award. I would like to thank all involved at our cricket club who have helped me over the previous seasons and I believe this trophy represents the hard work going on behind the scenes at all levels within our Club. I have worked closely with NICSSA since becoming Club Chairman and I am pleased that the Club's successes have been recognised at the Awards, especially our Under 11 team, who one day will be our future 1st XI and I am in no doubt that members of that team will one day play for Ireland."

Ivan has been Club Chairman since 2014, and has continued to develop and deliver the Club's Strategy for success both on and off the field.

Celebrating the Under 11's success, Junior Club Convenor, Steven Dyer, said: "This year has been a fantastic achievement for all the boys in the U-11 squad. They have been together for a number of years and their hard work has paid off. Hopefully they can continue as they progress through the age groups and into the adult Club teams."


Photo caption: (l-r) Gerry Kelly, Chief Executive, NICSSA, members of the successful U11 squad who won the Team of the Year category and Ivan McMinn, CSNICC Chairman, who won the Sir Kenneth Bloomfield Club Person of the Year at the recent NICSSA Awards.