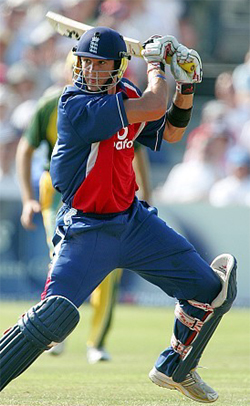 The world's number one side were 1-100 on Bet-fair and there were those who took those odds, thinking the match was a mere formality.
But when Trent Johnston and David Langford-Smith reduced the South Africans to 66-7, there were many an anxious moment for those foolhardy 'thieves' looking for an easy buck.
And even with a last wicket recovery of 101 in 25 overs, to bring the total to 192, that was not seen as beyond the Irish batsmen.
In running, Ireland were backed at a top price of 54-1 and at 70-3, were reduced to 2-1 with the South Africans at 1-1.
Needing 54 from 11 overs and six wickets left, Irish eyes were smiling at the prospect of their biggest scalp in their history and supporters cashing in.
But alas, it was not to be as those wickets fell for a mere 18 runs.
Betting on the Ireland match with Zimbabwe in Group D will be most interesting once the real stuff gets underway next week.
Meanwhile, England's Kevin Pietersen is 4-1 with Totesport to be the leading right-hand batsman with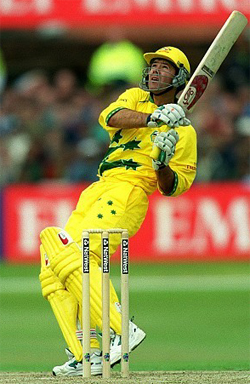 Australia's Ricky Ponting the 9-4 'jolly'.
There is no outright favourite for a left-hander with the call being 4-1 the field with Dubliner Ed Joyce worth a look wearing the Three Lions at 8-1.
Top right-hand batsman: 9-4 R Ponting, 4-1 K Pietersen, 5 J Kallis, S Tendulkar, 6 M Yousuf, Each-way 1/3 1,2,
Top left-hand batsman: 4-1 C Gayle, A Gilchrist, S Jayasuriya, G Smith, 6 S Ganguly, 15-2 S Fleming, 8 E Joyce Each-way 1/3 1,2 All quoted
Top Batsman: 6-1 Ponting, 14-1 Gayle, Jayasuriya, Pietersen, Smith, 16 Gilchrist, 20 Chanderpaul, Kallis, Sangahkara, 22 Tendulkar, 25 Y Khan, M Yousuf, 28 Clarke, De Villiers, Fleming, Hayden, Uthappa, Vincent 33/1 bar. Each-way 1/4 1,2,3,4.