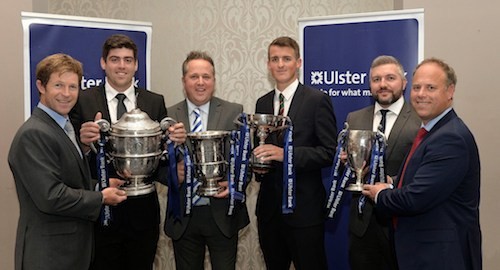 CRICKET IS IN A GOOD PLACE
The end of the season marked the NCU finale with the Annual Dinner and the following Annual General Meeting. It seems everyone was happy with both meetings, albeit the AGM resolutions may not have been to their satisfaction. However, the democratic process rules and there was plenty to debate. Some others were surprised who felt strongly about the Roadshows during the season, but they disappeared with their views. It seems the majority of members don't want administrators to meddle with players recruitment and perhaps there is every reason for this, since many clubs actually do it! "Star" homebred county players down the leagues also failed to win a proposal from the hierarchy. This seemed strange.
Perhaps the best news at the AGM was that the Development Officer was set to happen, and the recipient of the Jim McMorran Award was popular Muckamore player John McCormick.
Andy Clement has spent three years as Chairman and worked tirelessly in NCU service. He received a big ovation, and Alan Waite will be of similar ilk. We are well served by these fine administrators. Also, well done on the President controlling the debate and Secretary Bryan Milford for his voluminous record of everything that happened during the NCU season.
The dinner was a sell-out, no mean an achievement on its own.
Celebrity speaker Jonty Rhodes gave a fine performance as orator, motivators and award presenter. He was a good choice, and so was MC Colin Barkley, with his witty and some outrageous stories. President Peter McMorran gave the vote of thanks for all and sundry, one of the most difficult tasks, and the same for Bryan Milford. He has the challenge to please everyone and from all quarters, including the author. For this, he should win a vote of thanks. Did I say this? LOL
Editor
Photo:

The Northern Cricket Union's four Ulster Bank Senior League winners line-up with former South Africa Test player Jonty Rhodes. Holding their trophies are (from left) Nikolai Smith of Premiership winners Instonians, Richard Keates of Muckamore (Section 1), Matty McCord of Cliftonville (Section 2) and Larne's Gareth Gaw (Section 3). Also pictured is Chris Yeates of Ulster Bank. (photo courtesy Rowland White / PressEye)