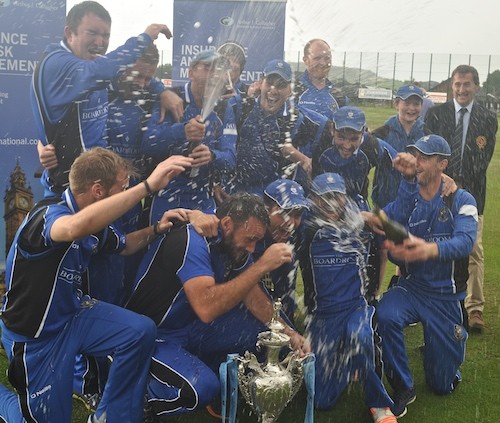 Skipper Nigel Jones was the hero for CI and he collected a deserved Man-of-the-Match Trophy.His innings of 80 continues a love affair with the Comber pitch after a series of some stirring performances in the past.
Inst chose to bat first, but the 208 total was well short of what was required on a well-known batting track. Inst counterpart Nikolai Smith (69) made a brave effort, but James Shannon (36) and veteran Eugene Moleon (39) were the only batsmen to sparkle. Inst didn't help themselves with three run-outs to add to their misfortune. However, there was some optimism from the bowlers as Matchett and Dougherty fell at 25, and then McGillivray at 67, but this was as close as it got. Jones survived a breezy opening, but once established he was impregnable. Hunter (65no) was also impressive, and although Jones was taken at slip on 193, the fate was already known. CI's 6-wicket win was a romp for Jones and Hunter with almost six overs to spare.
NCU President Peter McMorran presented the formidable Senior Cup to Nigel Jones, and CI has now registered their second trophy. However, it could be a pattern to follow in future years, as the team is well-balanced and growing in confidence.
Well done to the NCU officials and the North Down committee, who faced several problems, not least the troublesome weather that created havoc at the presentation. President Peter McMorran was also highly complimentary of the sponsors Arthur J Gallagher, who have enthusiastically embraced the sponsorship, which included at every level.
However, one thing needs to be rectified at the highest level. The Friday cup final must be restored. Neutrals were deprived because other fixtures were played on Saturdays, and Cricket Ireland needs to respect the local union to avoid this final.
It can't be that difficult when the fixtures are set many months ahead!
JCH