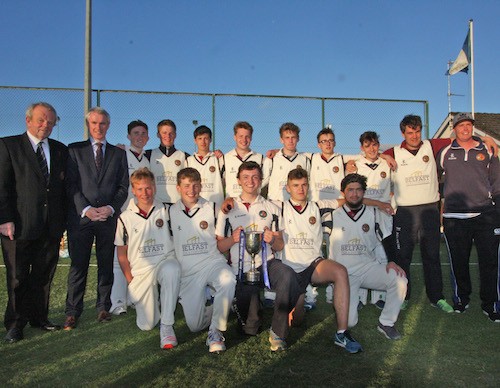 Belfast Royal Academy have retained the Ulster Bank Schools Cup with a tense three wicket win over RBAI.
The Academy won the trophy for the first time in their history last year and
their successful retention of it came with less than two overs to spare and
thanks to a brilliant 78 not out by Max Burton in 94 balls. He scored
virtually half the Academy's required total of 159, having come to the
middle with his side in serious difficulty at 34 for 3. None of the other
batsmen managed to reach the twenties and only three claimed double figures.
Early in their innings "Inst" promised a higher challenge than their total
of 158 off 38 of their 40 overs with a second wicket stand of 71 between Ben
Mellor (41) and Matthew Lightbody (32). The fact that the later order could
not bat out their full quota of overs was to cost dearly.
RBAI (40 overs):
J Hume c Collins b McLarnon 1
B Mellor. c J Moffet b Collins 41
M Lightbody b Burton. 32
B McNamara lbw b J Burton. O
L McNamara b J Burton. 11
B Cochrane run out 22
S McCaughan lbw b Boyd. 1
A Knape b Wilson. 18
C Robinson run out 6
D Robinson b Wilson 1
D Whitten not out. 2
Extras 23
Total all out (38.1 overs). 158
FoW: 1-7, 2-78, 3-78, 4-81, 5-98, 6-103, 7-128, 8-150, 9-154, 10-158.
Bowling:
M Wilson 7.1-32-2;D McLarnon 8-36-1; J Burton 8-37-3; F Collins 4-15-1;
C Boyd 6-8-1.

BRA
F Collins C Cochrane b L McNamara 18
J Burton b D Robinson 12
C Boyd c Knape b L Robinson. 2
H Warke lbw b D Robinson. O
M Burton not out 78
S Osborne b Whitten. 7
D McLarnon c Mellor b Whitten 6
R Moffett b Whitten 12
M Wilson not out 5
Extras 19
Total 159 for 7 (38.1 overs). 159

FoW: 1-26; 2-33; 3-34; 4-40; 5-72; 6-94; 7-140
Bowling:
L McNamara 8-34-2; D Robinson 8-28-2; D Whitten 7-27-3