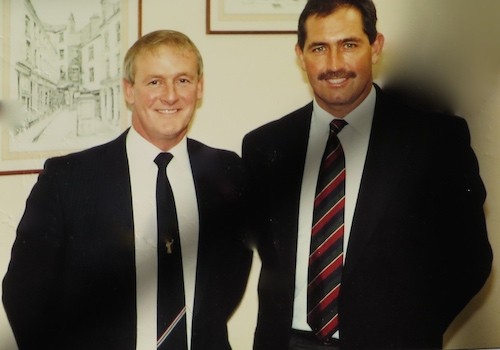 I was blessed with an exceptional summer for my NCU Presidency and took full advantage with many visits North and South. My visits totalled 120, excluding Australia and Singapore in January!
I was very fortunate I had the support of my family, as it couldn't have happened without it. I also appreciated the support and assistance from the NCU hierarchy, in particular Chairman Alan Waite and Bryan Milford, who got me involved in everything. Several others followed closely, including Richard Johnson, my Deputy Dog throughout the season, the charming and ultra efficient General Manager Angela Platt, and the workaholic Operations Manager Uel Graham. Brian and Ann Walsh, Davy Skelton, Roger Bell and Andrew Rose were extremely helpful. Andrew's parents Carson and Yvonne treated me to a tea party at their home during the Interprovincial Schools match at Osborne Park, which ranked as one of the highlights this year.
It was always my intention to be President for one year, and I am indebted to Richard. It was a kind gesture as I had a wonderful experience and I sincerely thank the membership for the high office.
It was my intention from the outset to cover all the NCU grounds, big and small. I also intended to watch at every NCU level from Interprovincial, club, youth to schools, and including Ireland representative matches at different levels. I was also introduced to another level, thanks to Cregagh, Instonians and North Down at Under 9. I toured with the NCU U 11 and U 14 to Taunton at the King's College Festival and thoroughly enjoyed the experience from competitors amongst other colleges. I was therefore delighted when our Union also staged the Inaugural NCU Festival centred at Campbell College using the Stormont and Belmont grounds. Hopefully the Belfast Cricket Festivals will be annual as youth cricket holds the future within the NCU. What an opportunity for cricket and Belfast as Lord Mayor Councillor Deidre Hargey gave it full support attending at the Opening and Closing Ceremony!
The sun shone from April to July before rain disrupted in August. However, when I watched Armagh's T20 match against Carrick as a rearranged match in mid-August I completed my roundup of NCU grounds. And what a fantastic finale for me, as Carrick rattled 276 runs, amidst the beautiful Mall. Hopefully Armagh will recharge their batteries next season and return to the Premier as the teams love this setting.
I also enjoyed the Dublin excursions, especially the Pakistan and India visits. What a terrific setting at Malahide with thousands of Indian-Irish boosting 8,000 fans. Sadly, we didn't have the support at Stormont and Bready for the Afghanistan visits and we need some serious thinking to improve spectator appeal, as the Ireland team needs support and encouragement. Remember the fairytale trips in the Caribbean in 2007 and 2011 and it is in our doorstep? Don't leave Dublin to shoulder the image of Ireland cricket.
One victim was the Carrickfergus 150th Sesquicentenary celebration when I planned to face my NCU President's XI against Carrick Chairman's XI. However, although the match was rained off most of the teams and the Carrick members congregated to celebrate this historic milestone. Carrick was founded in 1868 and the club was a founder member way back in 1884. Sitting at 3rd in the Premier League the 1st XI brought a lot of credit on them.
Carrick was a special occasion, and there were many during my club visits. I was delighted to be able to gift my cricket books to all the teams and Umpires "A History of Senior Cricket in Ulster" and the Senior Cup finalists "A History of the Northern Cricket Union Challenge Cup 1887-2011." I personally delivered 634 books and I'm certain many NCU players will known a lot more about the workings of the Northern Cricket Union plus the North-West and Irish Cricket Unions prior to Cricket Ireland.
The generous hospitality from all the clubs was without question, and I was delighted to meet many old and new acquaintances. I also visited the Border League and was delighted that Portadown and Dungannon are still active. Hopefully they can return to Saturday cricket and expand our scope. Monagan is an example, and I enjoyed their matches and their presence at the Robinsons League Awards, who travelled over 60 miles to attend. Yes, they have ground problems at present, but we want to encourage and support them.
I'm also grateful for the 'advice' I received during my travels and assured everyone the Union is vibrant and healthy, and a lot of administrators work tirelessly to make it work. We welcome healthy debate and the AGM is your platform.
I appreciate I am the face of the Union and feature in many cup finals and newspapers, but behind them the real workers make it happen.
Former England Test batsman Graham Gooch (pictured, alongside me) will be the Celebrity Guest Speaker at the NCU Dinner. Some 30 years ago he presented the Britannia Cricket Awards, so I hope I'll recognise him. It promises to be a great evening.
It will be my swansong at the top table, but I'll cherish the experience with my past year. I certainly appreciate the honour bestowed on me and thank the NCU members.
Thank you,
Clarence