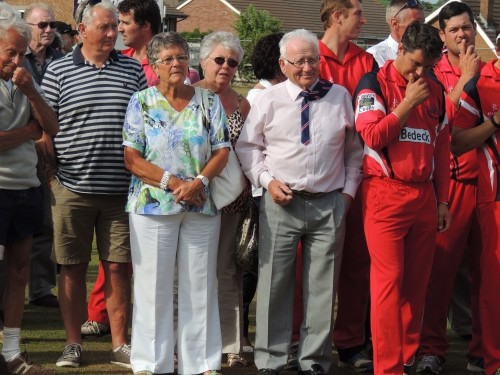 BIG WEEKEND FOR THE VILLAGERS
All eyes will be on the Lawn this weekend as Waringstown bid to win the Irish Senior Cup for the fourth time against Merrion. The stage could not be better with a home match and a guaranteed large crowd of partisan supporters expected at one of Irish cricket's most idyllic cricket grounds.
The NCU clubs have not done themselves justice in this competition over the last 15 years, but all that will mean nothing when the two finalists come head to head on Saturday. Both teams are packed with talent and although Waringstown professional Ruhan Pretorius has returned home, the Villagers have replaced him with Titans all-rounder Juan De Villiers. It shows how far the wheel has turned at one of the last bastions of amateur cricket and why the game will never go back. Waringstown are doing nothing wrong and in much the same way as other clubs have flexed their buying power the Villagers have done likewise and will hope to add the Irish Senior Cup to the NCU League title they all but secured with a 10-wicket trouncing of Lisburn in midweek.
It won't be easy against the high-flying Dubliners on Saturday, but with so much at stake I expect Lee Nelson's team to rise to the occasion and give NCU cricket a huge boost with a 'home' win.
PREMIER LEAGUE
Although the public glare will be at Waringstown there are three important league games slated for Saturday. North Down travel to Shaw's Bridge and a win on the road will confirm their position as runners-up to Waringstown as they can't surpass the Villagers' run rate even if both teams finish on equal points. Instonians have a point to prove and after beating CI last week they'll hope to finish with a flourish and set up an interesting finale with Waringstown in their last game. Ballymena are all but relegated, but if they win at Stormont there will be a lot of run rate comparisons to see if they have done enough to ruffle Lisburn's fragile position. I doubt if it will be necessary on this occasion, and I don't think Carrick will do the double over CI despite their great run in the past few weeks.
SECTION 1
There are nine matches scheduled for this weekend, and if Derriaghy win against Templepatrick and Woodvale, then they will be crowned champions. Obviously the weather might have a say, but Muckamore need to win over Templepatrick, Academy and Cliftonville to maintain their challenge and that seems very likely. Elsewhere, I expect Bangor to win against Woodvale in a close game, and Downpatrick to also win at home to Cliftonville. The North Belfast team are all but relegated, but Donaghcloney have an outside chance of survival if they can win handsomely against Lurgan and pip Templepatrick's run rate. Of course, that may be academic if Templepatrick can pick up a win against Muckamore or Derriaghy, but that looks unlikely given the strength of the opposition.
SECTION 2
Armagh should clinch the league title this weekend and it won't come any easier with a match against winless Larne, who failed to field a team last week. If for some strange reason the County Antrim team pulls off the shock of the season then Armagh shouldn't self-destruct against Drumaness on Sunday at the Mall. Laurelvale should win at home to BISC and Saintfield likewise against neighbours Dundrum to keep up their challenge for the other promotion spot, but the outcome looks likely to be decided by run rate. Elsewhere Drumaness and Holywood are evenly matched with a home win the likely outcome.
SECTION 3
With Millpark and Cooke-Collegians already promoted the last game of the season sees Ards make the long journey to Monaghan with only bragging rights at stake. The County Down team won easily at home, but I think they will not be as fortunate on the road.
September cricket used to be the deciding month for many teams, but after this weekend most of the issues will be settled. Best wishes to everyone and may the best teams on the day win without the weather having any say.
Clarence Hiles
Editor