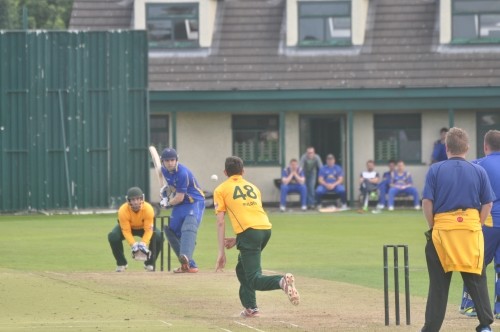 This is very clear from the current debate on junior cricket with particular emphasis on the duration of matches. The debate is healthy and each side has solid arguments to support their stance, so does it have to be one or the other, or is there room for flexibility?
I grew up in an era where the Rule Book was God and every year at NCU Annual General Meetings the rules were tweaked to cover situations that arose during the season. The debates were healthy, and at times provocative, controversial and argumentive, but they epitomized a union at work and ensured the AGMs were entertaining and lively. It was often a case of protecting clubs against themselves because no sooner had the new rule been set in stone that ingenious 'rule breakers' were scheming a way to get round it. Perhaps this was more perception than reality, but at the end of the day we need rules and regulations to ensure a level playing field. However, the rules can't cover everything and if they are set in stone they don't give clubs and captains any flexibility to adapt to changing circumstances. For example, fielding teams in July is a lot more difficult than June because of family holidays and we live in an era when family holidays, girlfriends and wives have a bigger priority than 30 years ago. And therein lies the dilemma facing cricket because the world has changed in 30 years, but in certain areas our Rule Book hasn't moved with the times.
Several years ago a disgruntled cricketer posted on the Forum a suggestion that the Rule Book should be binned and we start all over again. At the time it looked absurd, but perhaps the concept is not completely mental given we have created a set of restrictions and complications that make it virtually impossible to create a common sense solution to a set of circumstances. Some people say 50-overs cricket in Junior 1 is essential to develop and promote younger players for senior cricket, while others say we can't get them to play because the games last too long and our weather exasperates an already challenging timeframe. We know schoolboy cricketers have exams in May-June, we know a lot more people go on holidays in July and we know a number of dual sports people go off to another sport in August and September. We also know the starring system isn't perfect and at the bigger clubs some high profile players can turn out for the 2nd XI and we know former star players want to play down the club, but are being forced to play higher because of their background. We also know the bigger clubs are struggling to field all their teams on the same day and juggling with re-arrangements to fulfil matches rather than concede games or worse still, withdraw teams. Last weekend the North Down 2nd XI captain made 38 phone calls to get two players and one of the main problems was young players working. It is a fact in modern life that many of our young players have part-time summer jobs.
We know players young and old are leaving the game and we know umpires, scorers and club volunteers are more difficult to get. Ironically this comes at a time when cricket in Ireland has never had as much publicity with a professional administration governing the game and a number of full time and part-time Development Officers spread across the country. This in itself is commendable, but setting the struggles at grassroots against the success at the top of the ladder infuriates a lot of clubs who feel badly neglected by Cricket Ireland. However, this is another issue and one that hopefully is being addressed at the highest level.
The NCU clubs must take control of their own destiny and seek solutions to the problems that continue to arise every season. The issues are very clear and within the clubs and the union we have plenty of astute administrators who can work out acceptable solutions. I respectfully suggest we start with a flexibility strategy and relax the rules to allow consenting captains the option to set matches at whatever level of overs they want within bands rather than set overs. We could also reduce matches in player-unavailability peak periods and rather than restrict teams and players find ways of accommodating them. It is absurd to drive a former representative player from the game because he wants to play down the club with his friends or his kids and what an incentive for any junior player to poach a former international player irrespective of his current age or prowess.
We know the problems and we are in the middle of the cricket season so let's work out solutions now and ask the union to assist so that we can make pragmatic changes at the AGM. Let's be flexible and more forward. It may not be a solution that satisfies fixed opinions at both ends of the debate, but somewhere in the middle lies a compromise that could work a lot better.
Clarence Hiles
Editor