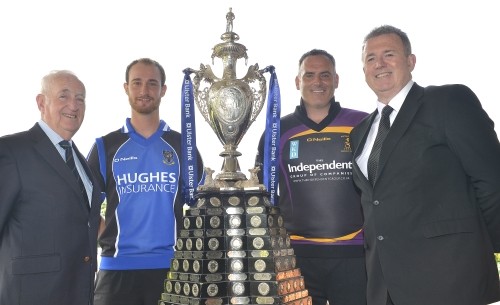 BATTLE OF THE TITANS
On paper it promises to be an epic Challenge Cup Final with two of the best teams in the NCU on parade on a good batting track. The weather might be a disruptive factor, but assuming the rain disappears as predicted by the meteorologists, senior NCU officials and retiring sponsors Ulster Bank could not have wished for a better send-off.
The Challenge Cup Final dates back to 1887 and is the union's most prestigious showpiece. It may have lost some of its glitter in recent times, but it remains the pinnacle of every senior cricketer's ambition to play in the cup final and hopefully win it. Some of the Instonians team have enjoyed the experience in recent years, but it will be a new experience for CIYMS who enter the game as favourites. Although neither the Belmont club nor the Old Boys have a strong Senior Cup history, this makes the final all the more intriguing because what CI lacks in cup final experience is compensated by their overall strength. Instonians will be boosted by their previous success, and many neutrals will hope the experience gained when winning in 2009 and 2012 will stand them in good stead to make it a close match, as this is a cup final and anything can happen on a day when the winner takes all.
Prior to the start of the season the CI recruitment drive lifted them from a contender for honours to the overwhelming favourites in all competitions. Their team has no visible weakness and on paper they should win all the trophies given the quality of the talent they have hired. However, there have been a few blips in recent times and this will certainly have encouraged both league and cup opponents. Instonians will not be overawed by the occasion, but they will have to have their A-game on parade, as there are too many big performers against them to expect anything less than formidable opposition.
Picking potential match winners is fun in cup matches, but it has little relevance on this occasion as each teams boasts a bevy of top performers. It could come down to the fate of the two captains as both Chris Dougherty and Neil Russell are capable of stamping their personality on proceedings from the outset depending on who bats first. Russell has plenty of cup final experience with both Instonians and his former club North Down so another visit to The Green will be home from home for the aggressive opener. Dougherty may be new to the final, but he has the temperament and ability to dominate any match and if he can repeat his semi-final heroics then it's difficult to see how CI will be beaten. Their one-run win over Waringstown was a thriller and the CI skipper's 132 was one of the great innings in NCU cup history.
Russell and Dougherty spearhead a powerful array of talent, but you could name at least another 5-6 players on each team capable of making it their final to remember. However, CI has the edge in the strength and depth of both their batting and bowling and the all round talent of Nigel Jones and Johnny Thompson. Instonians will look to Andrew White and James Shannon to counter the CI powerhouse, but they are also without their overseas professional because he wasn't registered before the start of the tournament. (An absurd and archaic rule)
In contrast, CI will have the impressive Rassie van der Dussen in their line-up and that's another big factor in their favour.
Superstition may also have a part to play as CI have visited The Green twice this season and won, yet Instonians lost their league game a couple of weeks ago. However, the cup final will not be won by luck unless the weather intervenes and Duckworth Lewis destroys the cricket duel like it did last year. Hopefully it will be won on the field by the team that rises to the occasion and if that is to be Instonians then they will need all their guns firing to beat the formidable CI armoury.
Ironically the Old Boys will probably enjoy unknown popularity on their occasion as most neutrals would love to see an Instonians victory, but it doesn't seem likely given all the facts.
The cup final starts at 11am on Friday at The Green in Comber and hopefully neutrals will join the supporters of both teams to make it an occasion to savour.
May the best team win!
Clarence Hiles
Editor