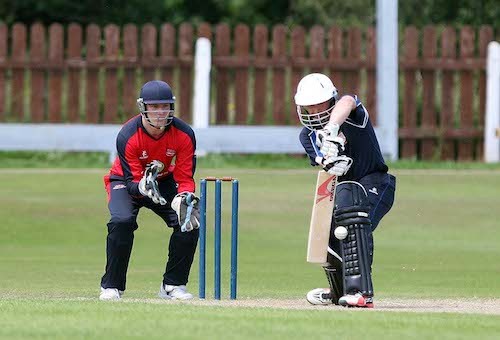 The Northern Cricket Union has been fortunate to have produced many fine cricketers over the course of its illustrious history. Occasionally some cricketers excel not only in the summer game, but on other sporting fields during the winter months. Andrew Mitchell from Waringstown is an example of a cricketer with immense talent who excelled for Dungannon Football Club last season, and has now moved to his boyhood favourites Glenavon Football Club.
Richard White: You must have enjoyed the last football season (2016-17), scoring goals for Dungannon Football Club and appearing in an Irish Cup semi-final against Linfield FC?
Andrew Mitchell: I really enjoyed my football last season. On a personal note it was successful as I managed to reach my target of scoring twenty-five goals. I could not have met this target without my team mates who were superb throughout the season and we unfortunately lost out to a last minute goal in the Irish Cup Semi Final against Linfield.
Richard White: How did you settle on a move to Glenavon?
Andrew Mitchell: Glenavon is the team I supported as a child and I would always be there every Saturday standing behind the goals at Mourneview Park as a ballboy. A few other teams were interested in signing me but I am a Glenavon supporter and want to see them being successful, and I hope to be a big part of that. I knew from my previous stint at Glenavon that I was perhaps young, raw and naive and not physically ready to play week in week out. I have unfinished business at Glenavon and cannot wait to get started and hopefully score plenty of goals.
Richard White: Do you think this move will bring added pressure?
Andrew Mitchell: I don't think so. There is no point on putting pressure on myself. I know I will go out and do my best every week. I have faith in my own ability and know that I will use that out on the pitch.
Richard White: What has been your pathway in football?
Andrew Mitchell: I started off playing at Waringstown Primary School in P5, and the Principal Mr Gary Kennedy, recommended that I go and train with Lisburn Youth. I went down for a few weeks, signed, and stayed there from Under 10's to Under 15's. The coaching was excellent and the standard of football was also very good. We had a very talented group of players with several of my team going on to play in England or Scotland. Current Northern Ireland International Ryan McLaughlin was part of that team. At the age of fifteen I then moved to Glenavon and played Under 18 football for two seasons before making the step into the first team at seventeen years of age. This was followed by a loan spell at Ards FC for a season, before a permanent move to Dungannon Swifts was sealed where I have spent the past three years.
Richard White: Do you harbour ambitions for a professional career in England or Scotland?
Andrew Mitchell: If the opportunity came up and the right club wanted to sign me I would definitely be interested. I have qualified as a Primary School Teacher which I thoroughly enjoy. I like to try and balance both, which sometimes can be hard. Although if I keep scoring goals and doing well for Glenavon then who knows what might happen in the future. Gareth McAuley at West Bromwich Albion only really started professional football in England at the age of 23. There is hope yet.
Richard White: Not only do you excel at football, but you also play top level club cricket for Waringstown. Do you find it hard to combine the two sports, and if so why?
Andrew Mitchell: It can be challenging. I only really get to play on a Saturday for about six weeks before pre-season starts, but I will always try to play on a Sunday. Cricket has been a big part of my life from Primary 5 until now, and I love getting down to The Lawn to practice, coach or play most weekends over the summer.
Richard White: What are your ambitions in cricket?
Andrew Mitchell: Due to my availability I may only play four or five games for the first team during the summer, so I predominately play for the Second team. We have a really good young team and it is encouraging to see the future crop of players being tested in Junior League 1 every week. In terms of cricketing ambitions, I am missing the elusive Junior Cup from my medal collection and would love to bring it back to The Lawn after several years absence. I would also love to be involved in an Irish Cup Final or NCU Challenge Cup Final win. I played in two rounds of the Irish Cup when we won it at the Lawn a few years ago, but missed the Final due to Football. So hopefully in years to come winning one of the big two trophies would put the icing on the cake. I also harbour ambitions in coaching and hope to assist in producing the next crop of young players to feature in the first team over the next decade.
Richard White: What is your greatest achievement in cricket so far?
Andrew Mitchell: Playing representative cricket for the NCU and getting selected for Ireland Under 13's and Under 15's.
Richard White: Which coaches in cricket and football have had the biggest influence on you, and why?
Andrew Mitchell: In cricket it would be Roy Harrison. From the moment I came down to Waringstown Cricket Club I was always made to feel welcome, and Roy has years of experience and knowledge of the game which he has shared with the young players. In football it is Rodney McAree, the head coach of Dungannon Swifts. Rodney showed immense faith in me when he took over as manager. I am thankful for the trust he put in me to score goals. He is an excellent coach who really knows the game and is also an excellent man manager.
Richard White: Which sports people have you admired growing up and why?
Andrew Mitchell: Two different sports people stand out. In terms of Cricket it would be Andrew Flintoff. The Ashes 2005 was really when I believe cricket took off for me. Flintoff had a superb Ashes series scoring plenty of runs and taking many important wickets. He seems to just love the game he plays and not to take himself too seriously, and can be classed as one of the cricketing greats.
In football, I always admired Glenavon striker Tony Grant. He was a great striker for Glenavon and forged a good career for himself. When I first came into the first team Tony and I played up front together. It is not often you can say you played competitively with one of your heroes. Tony is an absolute gentleman and was always willing to provide me with help and guidance throughout my time at Glenavon.
Photo Credit: PressEye