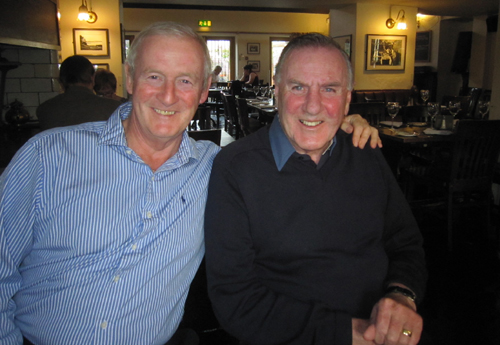 There have been concerns about his health in recent times but I'm delighted to say Alfie Linehan looks terrific and has already been to several matches this season, including Downpatrick's abortive trip to YMCA in the Irish Senior Cup. This is good news for local cricket as there has been no finer ambassador of the game than the former Downpatrick skipper. 
Currently Club President for many years, Alfie has a CV second to none in Irish cricket. A distinguished club captain he went on to lead Ulster Country and then Ireland in over two decades of outstanding form from the Mid-Sixties. Alfie was a member of Bob Law's Senior Cup winning team in 1966 and with his late brother Hugh the two Downpatrick batsmen formed the boiler-room of a highly successful team that would have achieved much more success had they not faced an outstanding Waringstown team in its prime.
Alfie has many fond memories of epic exchanges with the Villagers, but it would be difficult to get the details from the friendly Downpatrick farmer, as he remains one of the most modest sportsmen you are likely to meet. And his prowess on the field has been replicated off the field as he has served his club, the Northern Cricket Union and the Irish Cricket Union with distinction. He was also one of the driving forces at the club which was largely responsible for bringing top matches to the Strangford Road in the Seventies and that included the NCU Challenge Cup Final and international cricket when Ireland played their first game in the north after a period of isolation associated with the Troubles.  Alfie Linehan was Chairman of the NCU in 1988-89 and then President in 1998-99. He was also elected President of the Irish Cricket Union in 1992. He has also served cricket as selector of Ulster Country and Ireland, coach and a variety of roles within the Leprechauns, Mid-Ulster Cricket Group and the Sports Council for Northern Ireland.
His name is well-known throughout Irish cricket and while his profile these days is quietly in the background his enthusiasm remains boundless and thanks to his devoted and supportive wife Mary he rarely misses a home game and attends plenty of away games.  In an era when many of the "old hands" have drifted away from cricket it is heartening to know the spirit lives on in the persona of men like Alfie Linehan.
He may have a few more aches and groans these days, but a visit to the Meadow at Downpatrick on a Saturday afternoon would not be complete without a warm handshake and friendly welcome from one of Ulster cricket's true icons.
Clarence Hiles
Editor