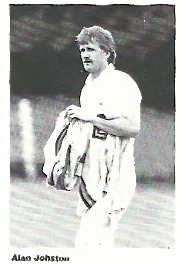 Better known as 'Jonty,' Alan Johnston has died recently.
A stalwart at Lurgan Cricket Club, he was the scourge of local batsmen and set some prolific feats that bowlers envied. He provided the inspiration around the club, that mounted a litany of records and trophies over three decades. But above all, Alan was a true Gentleman, and a role model amongst the younger generation.
I played against Lurgan for North Down many times, but we were usually at the wrong end of the fiery paceman. Jonty led a formidable team including big Ray Hunter, Dickie Maxwell, Eric and Walter Sands, Ros and Gary McCollum, Paul Lyness, Tom Guy and his brother Denis. A new generation were added with the Hunter brothers, Alan, Graeme and Neil, Paul Stafford, Dessie Neil, Richard Burton and Alan Woods. He was the inspiration.
As an 18 year-old, Jonty made a spectacular impact at the NCU Challenge Cup Final. He took 29 wickets in the cup alone. The final became a contest between the Archie's, McQuilkin and Campbell from Muckamore, and the batting of Raymond Hunter and the bowling of Johnston. Both were decisive in Lurgan's favour as Alan's captured nine wickets. He finished the season with 87 wickets in 1972.
After Schools and Irish Schools, it seemed inevitable that further honours would follow. But his strong faith offered limited Interprovincial opportunities outside Sundays. However, at the spritely age of 36 in 1990, he won three deserved caps for Ireland, and the swansong on his career was complete. But, just to add another of his many trophies, Alan added the Irish Schweppes Cup Final, defeating Clontarf. He took three wickets and captured the vital international batsmen Deryck Vincent and Edna McDermott.
Alan also made a big contribution to the club as a long-serving Treasurer, and Committee member. He also assisted with sponsorship in cricket as an Ulster Bank Manager. Sadly, his health deteriorating in recent years and he endured a painful and long illness.
Alan 'Jonty' Johnston, will be remember far beyond the fields of Lurgan Park and Pollock Park, not just because he was an outstanding bowler, but he exemplified sportsmanship, and was a true Gentleman in cricket.
We extend our heartfelt sympathy to the family circle.
Rest in Peace Alan.
JCH