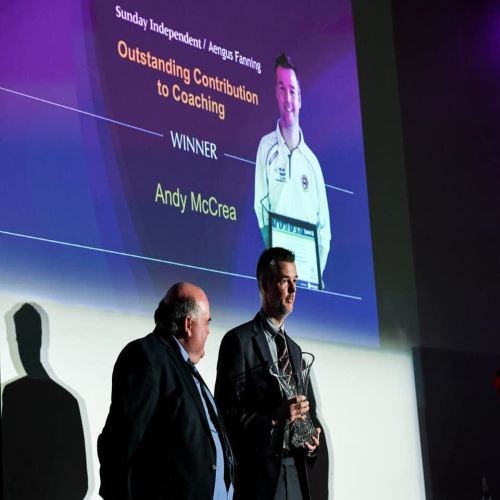 The Ulster Cricketer caught up with Andy McCrea recently to talk to him about his cricket career and how he got involved in coaching. Andy is one of the most respected coaches in the country. Testament to this is the recent award for his Outstanding Contribution to Coaching that he received at the Cricket Ireland awards ceremony in Dublin. Back in 2011 he was also the recipient of the Sky Sports Outstanding Achievement awards at both ECB and European level.
When did you become involved in cricket?
I started playing cricket in the Primary School field in Ballyrobert, when I was 10 years old along with other kids from the area, including Colin Storey and the Hunter brothers, Jon and Chris. We met there every day during the summer holidays and played until it got too dark. All 4 of us went on to play for Templepatrick 1st XI together.
When I moved to Ballyclare High School, I started playing cricket formally but couldn't really hold down a regular spot in the first year team, but I didn't let it put me off. I just became a bit more determined and worked a bit harder and eventually left the school as 1st XI Captain. I joined Templepatrick Cricket Club in 1988 and am very proud to say I have been a one club man ever since and have enjoyed every bit of the journey with them to where they are now.
When did you become involved in coaching?
In 1993, really as a necessity, I suggested to the Templepatrick committee about starting up a youth section at the Club to try and bolster numbers, as at that stage we were struggling to regularly field 2 teams. To this day, a few of that first youth team are still involved in the playing or administration of the club. I am delighted to say that now in 2020, Templepatrick CC field 5 senior teams and 7 youth teams and are currently extremely healthy and vibrant with 12 coaches working hard - so overall a very pleasing outcome for a lot of people who have rolled their sleeves up and got involved.
From this small beginning in 1993, I really started to enjoy working with young players and after taking my level 1 in 1994 and level 2 in 1996, I was asked to help out at NCU Inter Pro youth level and then Irish youth level. On several occasions I coached with the then Irish Senior coach, Adi Birrell, and he inspired me to develop my coaching knowledge and improve further on the product I was offering players and the ability to enhance their game. Opportunities continued and in 2006 I was asked if I was keen on taking the level 3 qualification. I thankfully said yes, and this made me further rethink my coaching ethos and become even more player centred but was also backed up by a growing bank of cricket knowledge.
Why do you believe coaches are important?
Coaches need to inspire players, see their potential and encourage the best out of their players. I have always said that a coach does not make good players, players make themselves into good players but the coach can help their journey by encouraging the correct thinking and assisting with progression.
What is your coaching philosophy?
I believe the coach has to understand where their players are in development and where they can get to and allow them every opportunity to achieve and progress by offering continual support. Successful coaches encourage players to be independent thinkers that will make the correct decision at the correct time.
Coaches need to keep learning and developing in the same way that they expect their players to.
I think sessions should be fun, engaging and challenging at the right level to ensure there is learning happening. I think it is vital that 'good coaching' occurs rather than just 'supervision'. Players will learn just through playing but good coaches can enhance this learning process, if they are aware of their players' needs and support these.
What are the main highlights for you as a coach?
I have several. I was very proud to be asked to be an Irish youth coach. Undertaking the ECB level 3 qualification and passing was an achievement I am glad that I was able to take on. Also being one the European coaches working in La Manga, Spain with the European Under 15 Centre of Excellence was a definite highlight in meeting some great forward thinkers and people who were passionate about coaching cricket.
I was delighted to be awarded the Outstanding Coaching Achievement Awards at both ECB and European level at the Sky Sports Coach Awards in 2011.
Obviously more recently, to have been recognised for Outstanding Contribution to Coaching at the Cricket Ireland awards was another proud moment. It was great to meet up with so many of the current Ireland team who I had the privilege of coaching in their younger years.
It is great to see young Irish players developing through our youth ranks and then move up onto the senior stage and the world stage and indeed now into the professional environment. It shows the great steps that Irish cricket is making in the right direction that these players can produce the goods at the right time with consistency.
Overall though, I would say my main highlight is seeing what Templepatrick CC has now become after starting out in humble beginnings 50 years ago. Now having our own base at The Cloughan in Ballyclare, with excellent practice and play facilities and now fielding 5 senior and 7 youth teams is an incredible achievement. The structures we have put in place mean we are super healthy and it has all been done from building within and doing things the right way. It really does show what can be achieved with ambition, hard work and passion. With 12 coaches all working hard at various levels and excellent links with lots of schools in the area, we really are in a great place but cannot be complacent nor dare to even think about standing still. Many people have played their part over the years however Arthur Bowron and Artie Campbell have been outstanding servants to the club and deserve as much recognition as possible.
What pleases you most as a coach?
As a coach without a doubt it is seeing someone sticking with the game for as long as possible, whether that be a player moving to International representation or even just playing for his / her club 4th XI. As their coach in whatever environment I have worked with them in, I have hopefully engendered some form of love for the game.
The same thing goes for my Coach Education role. Hopefully I can encourage coaches to be as active for as long as possible by allowing them opportunities to see how beneficial, rewarding and enjoyable it can be. It is great to see them coaching years later, be that at a high representative level or at the vital grassroots environment in their primary school for example.
What are the next steps for you as a coach?
I hope to continue doing as much of what I do as possible. I get real enjoyment from tutoring on coach education courses and also working with players from grass roots through to elite level so that sort of covers all bases.
My new role as a Coach Mentor for the ever growing band of NCU coaches has offered me a new challenge and one which will hopefully not only benefit the coaches but ultimately the players, so I am really looking forward to see how this progresses.
I hope to keep learning and developing my coaching and hopefully keep progressing in what I can offer.
Any final thoughts ?
Yes - I would take this opportunity to thank all the people who have given me opportunities and have helped shape and progress my coaching pathway over the years - there are many. In particular, Brian Walsh and Ian Johnston put a lot of faith in me at the Northern Ireland Academy and also with Coach Education and give me lots of opportunity to learn.
Being involved in Templepatrick CC, Campbell College, the NCU and Cricket Ireland and previously when it was the Irish Cricket Union have all been so enjoyable and so rewarding and I have learnt a lot and cricket has given me a lot. Hopefully I have given a bit back.
I cannot finish without saying thank you to my wife, Rebecca who has supported and encouraged me throughout. We will be married 20 years in Easter 2020 and she has definitely played her part with an outstanding contribution. Thank you so much.
Photo shows Andy with his Cricket Ireland award -
Credit Matt Brown Sportsfile