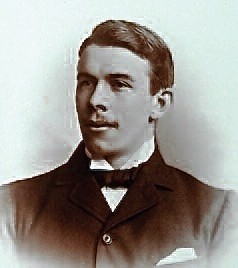 In October 2017 I was a very proud to be elected the NCU President, but I wonder why the club never attained this lofty accolade until 90 years expired!
Over the years North Down has produced several Presidents at Ireland Cricket level, and some very capable NCU administrators, including Chairmen, not least the indomitable William Andrews, who served for 18 years. "Willie" was also ICU President, and not surprising, he did it twice!
I succeeded the NCU Presidency from James Andrews in 1927-28, and I feel we should remember his outstanding career, not least in the service of the Northern Cricket Union. Later to become Lord Justice in 1937, he was also awarded Baronet in 1942. James shone in his legal career, and added his outstanding all-round sporting prowess. It was said he lived for law and sport, although family also played a big part in his upbringing.
James Andrews was born into privilege, and inherited a happy and affluent childhood. He was educated at 'Inst' and then studied at Trinity College Dublin with impressive legal qualifications. James was the fourth child to Thomas and Eliza Andrews, linking strong connections with two prominent Ulster business people, the Andrews and Pirrie families. Thomas built Andrews Spinning Mill in Comber, and was a key figure in the County Down Railway Line. William Pirrie built a shipyard empire after owning Harland and Wolff Shipyard in Belfast. Thomas built his home at Ardara House in 1871, close to the Ballygowan Road in Comber, and raised his family. In due course, his children made significant contributions to both Ulster and Ireland society.
John Miller Andrews was the their first son, later to become Prime Minister in Northern Ireland during World War Two. His second son Thomas (Jun.) was acknowledged as one of the finest Naval Architect in the world, and Managing Director at Harland and Wolff. Sadly, he was destined to perish in the infamous Titanic sinking in 1912. It was said Thomas (Sen.) never recovered from the tragic loss. A sister Nina was the third child, but his fifth child in 1886 was to become the best known in Irish cricket from the 'Andrews Family of Comber.' He was an eccentric cricketer, who stamped an indelible imprint in Ulster and Ireland cricket, best known as "Mr Willie".
The Andrews XI played regularly against a strong North Down team in the 1890s, and usually won. James played a leading role, and in addition to cricket he played hockey, rugby, golf and sailing. He was appointed Captain at Scrabo Golf Club 1926-28 and often played at Mahee Island and Royal County Down. He had a passion for sailing and featured in many Strangford Lough regattas.
He excelled cricket early at Inst and later played at Trinity, but loved nothing better than to return to The Green back to Comber. He played in 10 Senior Cup finals and was 1st XI Captain from 1902-7, then again in 1909, until he relinquished to Mr Willie for an unbelievable 39 seasons. He scored 97 against Ulster in the 1910 final, but lost heavily, although he was a victorious Captain on 4 occasions. He loved playing alongside his three brothers at The Green, although in later years business requirements made this difficult.
James was Club Chairman from 1910-20, and with Willie he has been credited with the formation of the NCU Constitution in the mid 1920s. James was acknowledged as a brilliant lawyer, and with Willie together, they were well equipped to deal with the nuances and peculiarities of the laws of cricket.
James died in 1951 after a distinguished career. I'm not worthy of his illustrious background, but I'm determined to enjoy the Presidency in the NCU family over the summer.
However, hopefully the next North Down successor will not wait another 90 years!
JCH